InterFace Southern California Desert Commercial Real Estate Conference
June 20, 2022 @ 10:00 am

-

2:10 pm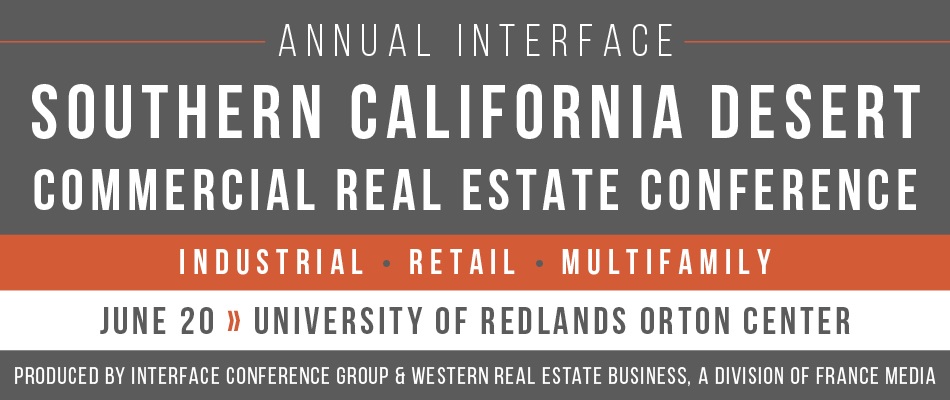 The InterFace Southern California Desert Commercial Real Estate conference will bring together the commercial real estate community throughout Southern California including the desert markets of Mojave River Valley- Adelanto, Barstow, Hesperia, Victorville, Apple Valley, Coachella Valley, Palm Springs, Desert Hot Springs, Cathedral City, Rancho Mirage, Palm Desert, Indian Wells, La Quinta, and Indio.
Growing e-commerce companies are taking more and more industrial space, retail developers are reinventing their centers, and demographic trends indicate that multifamily demand will continue to grow.
Join us June 20 2022, from 10:00 AM – 2:00 PM at University of Redlands Orton Center to hear from leaders in Southern California retail, multifamily and industrial markets as well as network with the industry players who are buying, selling, developing, redeveloping, leasing or financing properties.
The in-person event is hosted by Western Real Estate Business, Shopping Center Business, California Centers, and Western Multifamily & Affordable Housing Business magazines, along with the InterFace Conference Group.
The conference will attract attendees from throughout Southern California and surrounding areas, including owners, developers, property managers, economic development executives, buyers and lenders who are active in the retail, industrial and multifamily sectors.
Topics To Be Discussed:
What is the economic outlook for the next 12 to 24 months?
How has demand for industrial properties grown and what is the outlook for new development?
What is the availability of industrial land? How are land prices affecting future development?
Who is developing and who is buying industrial properties?
How have changes in e-commerce and advances in logistics impacted industrial development and design?
How has the retail sector fared through the pandemic? Where are the strengths and weaknesses as the retail sector recovers from the pandemic?
What retailers are opening and closing in the market?
What is the market seeing in terms of experiential retail, pop-ups, and nontraditional tenants?
What sort of debt and equity environment should we expect through the coming year?
What is the market seeing in terms of multifamily acquisitions and new development?
How have multifamily tenant preferences changed in the last two years? Which submarkets have gained an advantage and which have lost the advantage as multifamily tenant preferences have changed?
How are rental rates trending? What is the impact of new apartment development on rental rates and the investment market?
What is the pipeline for future multifamily development and what impact will that have on the market?
What is the outlook for interest rates and what is the anticipated impact on investment and development?
Who Is Planning To Attend:
Owners/Developers/Investors (Retail, Industrial and Multifamily)
Debt & Equity Capital Providers & Financial Intermediaries
Property Managers
Asset Managers & Operators
Institutional Investors and Fund Managers
Special Servicers and Receivers
Leasing & Marketing Specialists
Investment Sales Brokers
Title Insurers
General Contractors, Architects & Engineers
Real Estate Accountants and Attorneys
Service Providers to the Industrial and Retail Sectors
Economic Development Councils
State and Local Government Officials
Investment Sales Brokers
SUBSCRIBE TO EMAIL UPDATES FOR THIS EVENT
For information about speaking and sponsorship opportunities, contact Scott France at 404-832-8262 x108.
Covid-19 Health & Safety Guidelines:
The InterFace Conference Group strongly encourages that attendees be fully vaccinated at least two weeks before the event. InterFace Conference Group will be following all safety mandates in place at the time of the event.
---
France Media Inc. is publisher of Shopping Center Business, California Centers, Retail & Restaurant Facility Business, Seniors Housing Business, Student Housing Business, Southeast Real Estate Business, Texas Real Estate Business, Northeast Real Estate Business, Western Real Estate Business, Heartland Real Estate Business, Southeast Multifamily & Affordable Housing Business, Texas Multifamily & Affordable Housing Business, Western Multifamily & Affordable Housing Business, Midwest Multifamily & Affordable Housing Business, and Northeast Multifamily & Affordable Housing Business.
For more information about all of the commercial real estate magazines, websites, and newsletters published by France Media Inc., click here.