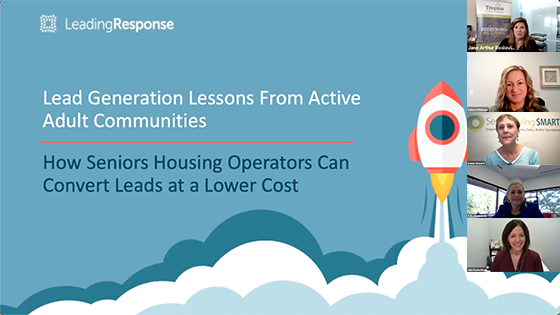 As more and more traditional seniors housing developers dip their toes into active adult, one of the challenges is understanding how this newest segment is both similar and different from independent living, assisted living and memory care.
Perhaps most importantly, while all segments target seniors, it could be argued that the customer base is completely different.
"With traditional seniors housing, about 70 to 80 percent of the initial search comes from an adult child, not the potential resident — typically a female, maybe an adult daughter or granddaughter," said Julie Podewitz of Vitality Living. "In active adult, it's flip-flopped. About 70 percent of the time or more, it's the potential resident his or herself searching for a new home. There's a big shift there."
Podewitz's comments came during a webinar titled "Lead Generation Lessons from Active Adult Communities: How Seniors Housing Operators Can Convert Leads at a Lower Cost." The webinar was broadcast last week and hosted by Seniors Housing Business. Other panelists included Jane Arthur Roslovic of TrePlus Communities, Debbie Howard of Senior Living Smart, Kelly Blaskowsky of Capstone Real Estate Services and moderator Valerie Whitman of LeadingResponse.
Roslovic agreed that her prospective residents for active adult properties do their own research, but is quick to note that doesn't mean operators can write off the adult child.
"Our residents, over 80 percent, find us on their own. It's very rare that we have the adult child find us. However, once the parent finds us, they always want the validation from the adult child."
"We have had, during COVID, situations where people were moving in from out of town because they wanted to be closer to their children," continued Roslovic. "But because they didn't know anybody, we provided instant community for them of like kind and age. Because of our private entrances into our units, that also became a hot aspect of our developments during COVID."
Whitman noted that operators should be able to separate website visitors by demographics, allowing sales teams to market to distinct groups — couples, single women, single men and adult children that will assist in the decision-making process. Technology may allow the sales team to follow up on website visits with direct-mail marketing.
"The senior is making the decisions and they're the ones initially reaching out," said Whitman. "But when they make the final decision, they're asking the adult children to go onto the website and, if they're local, to come in and go on a tour."
Howard said that the decision-making process in active adult is drastically different from that of traditional seniors housing. Rather than a needs-based decision based on some sort of health event, marketers should focus on the lifestyle change for seniors as they are moving by choice, she noted.
"A lot of the messaging campaigns and the website copy with trad seniors housing is more about the services, all the ways we're going to take care of you and the problems we'll solve. Active adult is much more fun from a marketing perspective. It can be sassy, it can be original. It's about throwing away the honey-do list. You can have your cake and eat it too. It's all really aspirational messages that are easier to build out and make resonate across all channels."
One advantage active adult operators have today is that consumers have become familiar with the concept of choice-based, age-restricted housing, said Blaskowsky.
"Active adult has been in different markets for so long now that people understand what the communities are. The challenge before was making sure we were getting that product knowledge out to the public, that they understand the concept behind it and marketing that piece of it. Now it's about marketing the relationship that we're going to build."
To view the full webinar, click here.
— Jeff Shaw