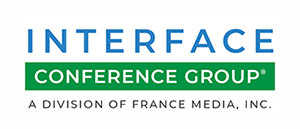 InterFace Conference Group, a division of France Media Inc., produces more than 30 conferences each year, including InterFace Seniors Housing Northeast, InterFace Seniors Housing Southeast, InterFace Seniors Housing Midwest, and InterFace Seniors Housing West. These events provide educational content and networking opportunities for commercial real estate professionals. Each InterFace event attracts the owners, investors, developers, operators, lenders and intermediaries that are most active in the property sector niche or geographic market focus for the event.
France Media Inc. is the publisher of Seniors Housing Business, as well as 10 other commercial real estate magazines, and several websites and newsletters that cover the industry.
Follow @InterFaceGroup on Twitter and on LinkedIn.
To receive our once-a-month email announcing future conferences, click here to subscribe.
Upcoming Conferences
Click here for monthly calendar view.
THE Inland Empire Commercial Real Estate Conference 2020
Western Real Estate Business, Shopping Center Business and California Centers magazines along with the InterFace Conference Group are pleased to announce THE Inland Empire Commercial Real Estate Conference will be held January 23rd in the City of Moreno Valley. The conference will attract attendees from throughout Southern California and surrounding areas, including owners, developers, propert...
InterFace Seniors Housing West 2020
Los Angeles — Seniors Housing Business magazine and the InterFace Conference Group will host the 6th annual InterFace Seniors Housing West conference on February 20, 2020, in Los Angeles at the Omni Hotel. The conference will focus on the state of seniors housing investment, development, operations, and finance across markets in the Western United States. It is designed to bring together t...
InterFace Student Housing 2020
Austin, Texas — Join 1,300 of the industry's top players who are expected to attend and participate in InterFace Student Housing 2020. Student Housing Business magazine and InterFace Conference Group will host the 12th annual InterFace Student Housing conference April 7-9, 2020, at the JW Marriott in Austin, Texas. …
For more information, visit www.interfaceconferencegroup.com.