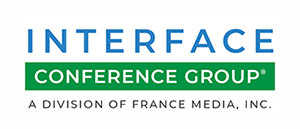 InterFace Conference Group, a division of France Media Inc., produces more than 50 conferences and webinars each year. These events provide educational content and networking opportunities for commercial real estate professionals. Each InterFace event attracts the owners, investors, developers, operators, lenders and intermediaries that are most active in the property sector niche or geographic market focus for the event.
Seniors Housing Business, in collaboration with France Media's InterFace Conference Group, hosts five informational and networking conferences and one Exchange event each year:
InterFace Seniors Housing West (Los Angeles)
InterFace Seniors Housing Southeast (Atlanta)
InterFace Seniors Housing Midwest (Chicago)
InterFace Seniors Housing Northeast (Philadelphia)
InterFace Active Adult: A to Z on the Hottest Trend in Seniors Housing (Dallas)
Seniors Housing Business Operations Exchange
InterFace Seniors Housing conferences, with their mix of high-value education and networking, are structured to offer a controlled
opportunity for the seniors housing industry to come together for information and networking.
The intimate Seniors Housing Business Operations Exchange brings together 12 owner/operators with a similar number of sponsors for two days of relationship-building, information exchange and networking.
Interested in speaking at, sponsoring or exhibiting at an InterFace event? Contact us for details.
Eric Goldberg
Media Advisor, Seniors Housing Business
Email: [email protected]
Phone: (404) 832-8262 x125
---
For more information, visit www.interfaceconferencegroup.com. Follow @InterFaceGroup on Twitter and on LinkedIn.
France Media Inc. is the publisher of Seniors Housing Business, as well as 14 other commercial real estate magazines, and several websites and newsletters that cover the industry. For more information, visit www.francemediainc.com.