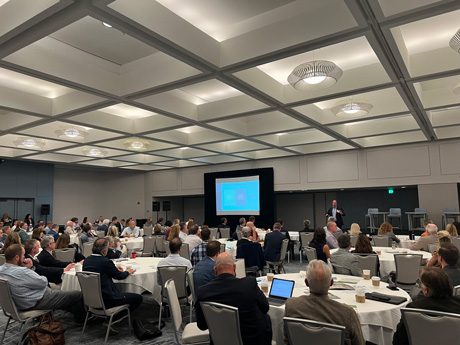 DALLAS — Active adult housing, usually reserved for people over either age 55 or 62 and offering amenities but no aging services, targets a quickly growing demographic as 10,000 baby boomers reach retirement age every day. However, the biggest challenge to reaching that demographic might be teaching them what active adult housing is exactly.
"A lot of people are challenged by thinking of housing as a binary choice — 'I'm going to age in place or go to skilled nursing," said Ryan Frederick, CEO of consulting firm SmartLiving 360. "Many people fear skilled nursing more than death itself, so if they see it as a binary choice, what are they going to do? They're going to age in place."
Frederick's comments were part of his keynote address at France Media's InterFace Active Adult Conference, held at the Dallas Marriott Downtown hotel in Dallas. This second annual event is the industry's only in-person conference devoted entirely to the active adult/55+ niche.
Frederick wrote a book titled "Right Place, Right Time" about how where people live, particularly as they age, can have a positive or negative impact on their lifestyle. For many, an active adult community would be the best place to live, but they don't know it exists. Additionally, many don't consider aging and how it will impact their housing, meaning they simply haven't considered a lifestyle change.
"They're not set up for success. That's an opportunity," said Frederick. "How can we better help people better figure out the right place at the right time, and think positively about the impact of a longer life?"
He also noted that active adult faces a unique challenge. While multifamily product can likely fill up on demand alone, and seniors housing is needs-based because of the services offered, active adult is a discretionary choice for residents. The target market has the option of staying in their current home or moving into a regular apartment complex with no age restrictions. In other words, Frederick said, "If you build it, they may not come."
"If it turns out you picked the wrong market and wrong price point, you could have a project that simply will never fill. This field is much more about psychographics than demographics. You have to really know the types of customers you're attracting. Some people are going to say 'no' even though they are income-qualified and age-qualified. But certain psychographics are going to say 'yes,' and ideally, 'hell yes.'"
This is why active adult developers and operators need to focus on strong education campaigns, with an emphasis on how where a person lives impacts health and longevity. Frederick noted that a person tends to absorb the lifestyle of the people and locations around them. "If our friends are obese, we're more likely to be obese," he noted. "If our friends are active, we're more likely to be active."
He jokingly added that he drinks more beer and eats more tacos now that he lives in Austin, Texas. "We're influenced by place."
"As we talked to different people moving in, very few understood the science around successful aging. People focused a lot more on the size of the units, the countertops. There are all these meaningful, indirect benefits of place that they aren't thinking about."
If a community does fill up, the active adult sector offers some very enticing metrics to investors, developers and operators. The average length of stay is longer, rents higher and resident satisfaction greater than in multifamily, with none of the operational intensity of true seniors housing. Frederick described a community reaching stabilized occupancy as "the pot of gold at the end of the rainbow." But getting there requires the potential customer base to understand the sector and its benefits.
"Developers are making a marketing bet. We need to have people understand the importance of place in healthy aging. If more people understand how important it is they'll say, 'Maybe where I am is not the best place for a longer life.'"
— Jeff Shaw