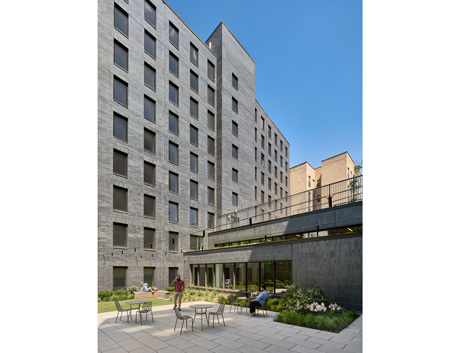 NEW YORK CITY — Breaking Ground has opened Betances Residence, an affordable supportive living community in the South Bronx area of New York City.
The community features 152 units in a 120,000-square-foot buildingin the Mott Haven neighborhood. Betances is Breaking Ground's first Passive House-certified project, and among only a handful of supportive residences in the city to embrace the energy use standard.
The Betances development is part of a commitment by the New York City Housing Authority (NYCHA) and New York City Department of Housing Preservation and Development (HPD) to identify underutilized land for new affordable homes.
"Older adults are the fastest growing population in New York, and Betances helps ensure that our most vulnerable seniors can age-in-place without constant fear of losing their home," says Brenda Rosen, president and CEO of Breaking Ground. "We are especially grateful to NYCHA and our government partners, whose commitment to expanding affordable housing is unmatched."
"The Betances Residence showcases our commitment to leverage existing NYCHA land to provide our communities with high-quality, affordable housing. Current NYCHA residents and low-income seniors will now have access to permanently affordable and supportive housing, a critical lifeline for our city's seniors as they age," adds Jonathan Gouveia, executive vice president of real estate development of NYCGHA.
The 152 apartments at Betances are home to formerly homeless and low-income older adult households, including one superintendent unit. Crucially, 26 of the units have a preference for current residents of NYCHA apartments, allowing senior residents to continue to age in place in the community while freeing up much-needed NYCHA apartments for other households.
COOKFOX Architects designed the project. Betances Residence received capital funding from the New York City Council and Bronx Borough President's Office, HPD, HDC, OTDA/HHAC, and Wells Fargo Bank, N.A. The Corporation for Supportive housing provided pre-development funds. The AFL-CIO Housing Investment Trust purchased tax-exempt bonds to finance the development.