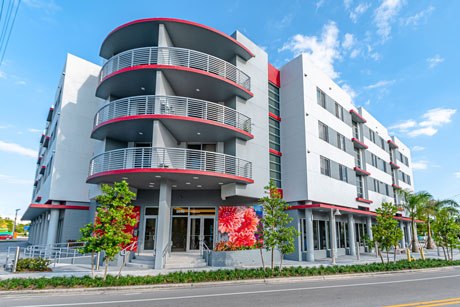 WILTON MANORS, Fla. — Carrfour Supportive Housing, Florida's largest nonprofit affordable housing developer, has teamed up with The Pride Center, one of the nation's largest nonprofit LGBTQ+ community centers, to complete The Residences at Equality Park, an LGBTQ-focused supportive housing community.
The $15.3 million, 48-unit, four-story development is located on The Pride Center's Equality Park campus just north of Fort Lauderdale in the city of Wilton Manors. The community provides permanent affordable housing coupled with on-site supportive services for low-income residents over age 55 living with disabling conditions such as physical illnesses or disabilities due to complications from diseases including HIV.
Forty-three units are reserved for residents earning 60 percent or less of Broward County's area median income (AMI), which equates to a maximum annual income of about $35,000 per year for a one-person household and about $40,000 per year for a two-person household.
The remaining five units are assigned to those earning 33 percent or less of the AMI, which equates to a maximum annual income of about $18,000 per year for a one-person household, and about $20,000 per year for a two-person household. Monthly rents are based on income, with starting rates ranging from approximately $800 to $1,000 per month.
"In working with our partners at The Pride Center, we identified housing in the area as a challenge for seniors — especially among LGBTQ seniors who face discrimination, bias and sometimes even hostile treatment from landlords as well as fellow tenants," says Stephanie Berman, president and CEO of Carrfour Supportive Housing.
Carrfour served as the project's developer, operator and service coordinator, while The Pride Center provides residents with supportive services, including service linkage, senior support groups, wellness workshops, recreational activities, a speaker series, cultural events, exercise classes and the annual Active Aging Health Expo.
The Residences at Equality Park received funding from JPMorgan Chase Bank, which provided $9.6 million in construction financing, while Florida Housing Finance Corporation added a $862,734 Viability Loan and a $550,000 Gap Loan. In addition, Broward County provided a $450,000 Gap Loan with the City of Wilton Manors providing a $50,000 Gap Loan.
Lastly, the Harry & Jeannette Weinberg Foundation provided a grant in the amount of $1.3 million to go along with an issuance of $11.2 million in Low Income Housing Tax Credits (LIHTC). Enterprise Community Investments served as the tax credit syndicator and was an equity provider for the project.