By Dan Lindberg, founder and principal, Applied Economic Insight
Labor shortages took center stage for business leaders and economists across many sectors of the economy during the Great Resignation toward the end of the COVID-19 pandemic.
Such shortages, however, are nothing new for seniors housing and care providers. While required staffing ratios and regulations add to this, at heart seniors housing is an operationally intensive business. It takes people to serve people.
That said, labor is a two-sided coin. On the first side, we have staffing levels measured in terms of the employees, hours worked or hours per resident, among others. On the second side, we have productivity.
At its core, productivity compares some output to its inputs. In seniors housing, the output could be census, resident satisfaction or operating margin. Some inputs could be employees, minutes/hours per resident or labor expenses.
The graph below compares the growth in seniors housing labor productivity to other industries from 2000 to 2019 and shows that productivity growth lags behinds other sectors. In fact, it has even declined year over year. We exclude 2020 on due to the disruptions COVID-19 created.
For seniors housing, productivity declined in 14 of these years compared to in 10 years for hospitals. Hotels/motels and restaurants saw declines in only seven years. While both hospitals and seniors housing face staffing requirements, seniors housing also provides accommodations, recreation and dining services. So while one might reasonably expect senior housing to fall somewhere in the middle, it does not.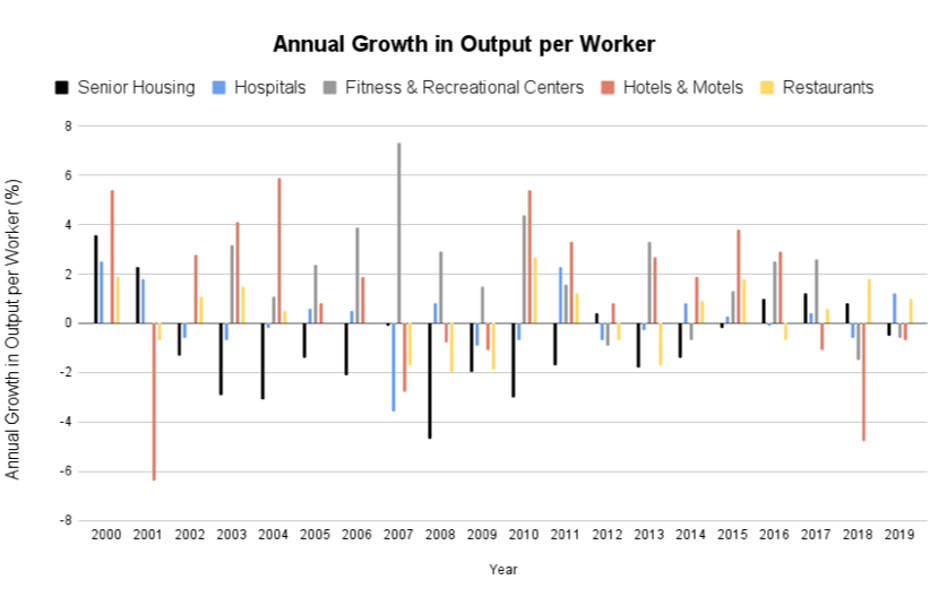 This is not to say that seniors housing operators are unproductive, nor should we conclude that seniors housing is doomed. Productivity is about using limited inputs to achieve desired results. In the long-run, firms that do not earn profits simply cease to exist and unproductive industries are disrupted.
What the graph does show, however, is an opportunity to differentiate by fostering productivity growth.
Becoming more productive is an exercise in self-awareness. It is about measuring, assessing, and testing. To be specific, it is about:

Measuring
Identifying the right input and output metrics tied to overall strategy.
Consistently tracking these metrics.
Assessing
Assessing and benchmarking these metrics.
Listening to, assessing and implementing feedback from front-line employees.
Testing
Enacting changes and best practices.
Remeasuring, reassessing, and retesting.
Growing productivity is not just a job limited to operators. Owners, developers and operators can all support this effort. The table below presents some considerations across entity types.
Owners
How well do the leasing agreements support asset productivity?
Does the management of the asset enable providers to focus more on desired operational outcomes?
Do capital investments in existing communities help the existing workforce serve more efficiently and effectively?
Do investments focus on supporting the right programming and operational performance indicators?
Can renovation and repositioning efforts be scaled across third-party operators?
Developers
How well does the community's programming and design align with a provider's operating model? Key areas of consideration are foodservice, dining, activities, wellness and care services.
How accessible is a prospective new community to labor? Is there reasonable access to the site via public transportation, if applicable, or a reasonable commute time?
How tight is the current labor market? Will competition for staff drive up wages more than what is feasible?
How experienced is the current labor market? Is there top talent that the operator could recruit?
Is the program and design scalable across new markets and states?
Are key changes and results tracked across projects?
Operators
How talented is the existing labor pool?
Will labor shortages drive up wages to more than feasible rates?
How are results measured? Results should ultimately be tied to overall strategy, but some outcomes could include referrals, operating margin, resident satisfaction and care outcomes.
How are inputs measured? Some inputs could be employees per resident or minutes per resident.
Do outsourced services clarify or muddle the measurement and assessment process?
How can technology support the workforce without burdening with large learning curves?
How well do procurement policies support productivity?
A more productive workforce does two key things. First, where regulations allow, operators can hire fewer workers at higher wages because these workers are contributing more to the bottom line. Second, firms lower their costs and increase their profits.
Ultimately, this shifts the cost structure, enabling smaller campuses or more affordable properties. Productivity growth could be one of the keys with which the elusive "forgotten middle" is accessed.
Dan Lindberg is the founder and principal of Applied Economic Insight LLC, which enables developers, owners and operators of age-restricted, needs-based or healthcare properties to enliven the living environments of older adults. He has a graduate degree in economics, teaches courses in business analytics at Marquette University, and his article "The price elasticity of senior housing demand: is it a necessity or a luxury?" published in Business Economics won the 2022 Contributed Paper Award with the National Association for Business Economics. His firm is part of the network of healthcare consultants Stackpole and Associates.