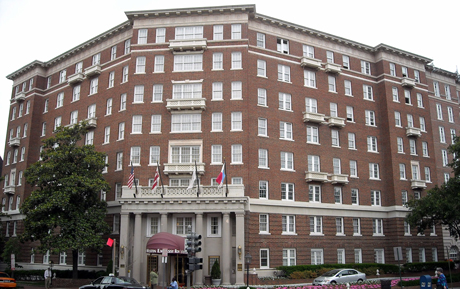 WASHINGTON, D.C. — Maplewood Senior Living and Omega Healthcare Investors Inc. (NYSE: OHI) have unveiled plans to expand the Inspīr brand to the Washington D.C. market with the acquisition of The Fairfax Embassy Row.
The historic hotel will be transformed and re-envisioned into Inspīr Embassy Row, an ultra-luxury senior living community. Inspῑr Embassy Row will be the second location under Maplewood's Inspīr brand, and the first Washington D.C. property in the company's portfolio.
"We have taken careful consideration to identify locations where we can truly offer exceptional resident experiences that are reflective of the history, culture and vibrancy of the cities that surround them," says Gregory D. Smith, president & CEO of Inspīr. "After opening our debut location in New York City, we explored other markets domestically and internationally where there was a void we could fill."
Rising eight stories in one of Washington D.C.'s most sought after neighborhoods, the 173,932-square-foot senior living residence will feature 174 apartments. The property is located less than two blocks from Dupont Circle Metro, and minutes away from The White House, Pennsylvania Avenue, The Smithsonian Museum, The Philip Collection and The Anderson House.