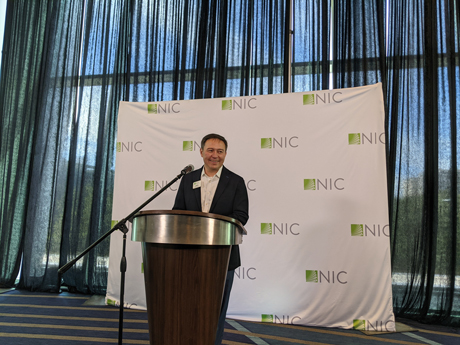 HOUSTON — The National Investment Center for Seniors Housing & Care (NIC) has plans to improve its data for its constituents through commissioned studies and new technology partnerships. The announcement was made at the NIC Fall Conference, held Nov. 1 through 3 in Houston.
Brian Jurutka, president and CEO of NIC, led a press conference to kick off the event on Monday. The first order of business was two new software partnerships with Glennis Solutions and Eldermark to improve NIC's data set for actual rental rates. The actual rates initiative has been an ongoing target for NIC.
"Data transparency is important for the future of senior living. To the extent where we can increase transparency and make the data more similar to other classes of commercial real estate, it allows investors to identify risk and opportunities in the space," said Jurutka.
NIC-certified software partners must develop reports that meet NIC's actual rates standard format and provide two or more operators' data for six months using those reports. Actual rates data are aggregated across operators and reported out to help investors and operators understand the relationship between "asking rate" or "rate card" pricing and the actual rate being paid by residents.
The new partners come on the heels of several other moves by NIC. In October, the association partnered with Trepp to improve its CMBS data set. In March, NIC acquired VisionLTC, a data analytics platform serving the seniors housing industry, merging the company with its NIC MAP data service and renaming it NIC MAP Vision.
At the same press conference, Jurutka unveiled the executive summary of a NORC at the University of Chicago study of COVID-19's impact on the seniors housing industry. A grant from NIC funded the study.
Although the study found that COVID-19 had a strong negative impact on the industry, it also found that the majority of seniors housing communities — 51 percent — had no COVID deaths at all. Of all independent living communities, 67 percent had zero deaths from the pandemic. The numbers get worse for higher acuity communities, with only 39 percent of skilled nursing facilities experiencing zero deaths.
"There were some things left unanswered. We've provided a grant for Phase II for the NORC study, and it's going to normalize for age, gender and ethnicity in congregate care versus the wider community," noted Jurutka.
The acquisition of VisionLTC should also yield some data regarding the labor struggles currently facing the seniors housing industry.
"We've partnered with Burning Glass Technologies," a real-time job market analytics software, said Arick Morton, CEO of NIC MAP Vision. "They collect data from a variety of sources every day."
The NIC Fall Conference continues through Wednesday.
— Jeff Shaw