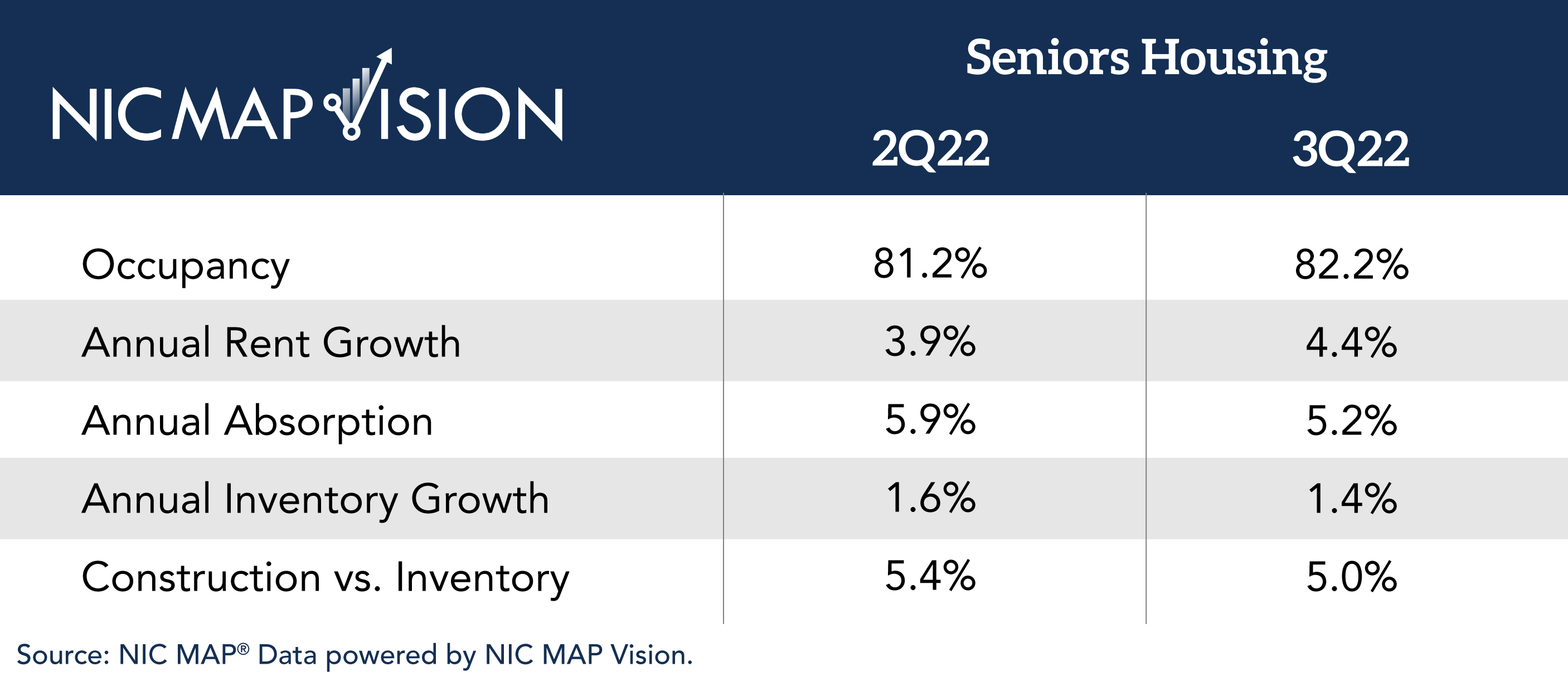 ANNAPOLIS, Md. — The national occupancy rate for private-pay seniors housing increased 100 basis points from 81.2 percent in the second quarter of 2022 to 82.2 percent in the third quarter, according to NIC MAP Vision. Occupancy is up 430 basis points from a pandemic low of 77.9 percent in the second quarter of 2021.
NIC MAP Vision is a product of the National Investment Center for Seniors Housing & Care (NIC), an Annapolis-based nonprofit firm that tracks industry data gathered from 31 primary metropolitan markets. Private-pay seniors housing comprises independent living, assisted living and memory care.
The occupancy increase — the fifth consecutive quarter of increase — is due to a surge in demand, which strongly outpaced growth in inventory. Further, the total number of occupied senior housing units within the primary markets is just 2,400 units shy of its pre-pandemic, all-time high level.
Demand has rebounded more strongly for assisted living than independent living, with another quarter of robust gains pushing the number of occupied assisted living units to their highest level ever in the third quarter across the primary markets. Because new inventory was added during the pandemic, the overall assisted living occupancy rate has not yet reached pre-pandemic levels.
"Occupancy continues its rebound, supported by near-record demand that has strengthened through 2022 after the Omicron outbreak earlier in the year," says Chuck Harry, NIC's chief operating officer. "The data this quarter are very promising overall, especially since this count of occupied assisted living units has not been seen since NIC MAP Vision began reporting the data in 2005. Further improvement is needed, however, to get occupancy rates back to their pre-pandemic levels."
The boost in the overall senior housing occupancy rate was aided by slow inventory growth paired with robust demand. On the inventory side, just 2,300 units were added within the primary markets during this quarter, which is the weakest inventory growth since the third quarter of 2013 other than in the first quarter of 2022. Construction starts also continue to be slow due to volatility in the capital markets.
"The rise in interest rates being imposed by a more restrictive Federal Reserve monetary policy as well as economic uncertainty has led to a marked slowdown in loan issuance, which suggests we'll continue to see a relatively low pace of development in the next several months," says Beth Burnham Mace, NIC's chief economist. "The slowdown in construction starts will act as a tailwind and support further gains in occupancy."
The 30-day average in the Secured Overnight Financing Rate (SOFR), which is used as a benchmark in construction lending, is currently 2.76 percent, up from 0.04 percent at the start of the year.
Occupancy improved across all property types. Assisted living had the largest quarterly gain.
To read the full report, click here.