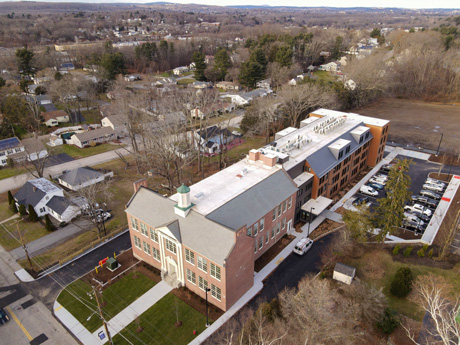 AUBURN, Mass. — Pennrose has opened Mary D. Stone Apartments, a 55-unit, mixed-income seniors housing community in Auburn, a suburb of Worcester.
The project was the historic rehabilitation of a 1920s-era school building, including the demolition of later-built wings and the construction of a new addition.
Mary D. Stone was designed to help address the widespread shortage of affordable housing in Massachusetts, where the National Low Income Housing Coalition estimates there are only 48 available affordable rental homes for every 100 low-income households. Eighty percent of the units at Mary D. Stone Apartments will be available for seniors at or below 60 percent of the area median income (AMI), starting at $29,550. The remaining 20 percent of units will be leased at market-rate rents.
"Our administration is pleased to see this redevelopment of an underutilized town building into new affordable seniors housing come to fruition, and we applaud the strong partnership between the Town of Auburn and Pennrose to make it a reality," said Massachusetts Lieutenant Governor Karyn Polito. "The need for affordable housing in the commonwealth has always been a priority and the need was only exacerbated by the pandemic."
The community offers studio, one- and two-bedroom floorplans. As part of the development, Pennrose also contributed $25,000 to the town for new playground equipment behind the building and added landscaping and benches to enhance the area for multigenerational community use.
Funding for the project was secured from Massachusetts Department of Housing and Community Development (DHCD) in the form of 9 percent federal Low-Income Housing Tax Credits, state Low Income Housing Tax Credits, Housing Stabilization Funds, HOME funds, Affordable Housing Trust Funds from MassHousing, Community Based Housing funds from CEDAC, federal LIHTC Equity from CREA, state LITHC and Historic Tax Credit equity from Dorfman Capital, permanent financing from Massachusetts Housing Partnership and construction financing from Citizens Bank. BlueHub Loan Fund Inc. served as a state tax credit intermediary.