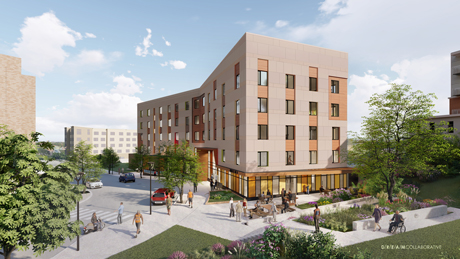 BOSTON — Nuestra Comunidad and Preservation of Affordable Housing (POAH) have broken ground on The Kenzi at Bartlett Station, a 50-unit affordable seniors housing community in Boston.
The $27 million project is part of a five-phase redevelopment at a vacant bus yard, which Nuestra Comunidad and Windale Developers now own, in Nubian Square, located in the Roxbury neighborhood.
The Kenzi will feature 41 affordable one-bedroom units, and three affordable two-bedroom apartments in a 57,576-square-foot building. The housing includes 44 units restricted to Bostonians over the age of 55 who earn at or below 80 percent of the area median income, or $69,000 for a two-person household. The development also includes five units of housing for formerly homeless Bostonians.
The Kenzi project is supported by $15 million in state and federal housing tax credit investments, $4 million from the Massachusetts Department of Housing and Community Development, $1.8 million in Community Preservation Act funding, $750,000 from the Neighborhood Housing Trust, a $700,000 investment by Preservation of Affordable Housing and $500,000 from the Boston Medical Center.
The larger Nubian Square site is being redeveloped by Nuestra Comunidad Development Corporation and Windale Developers, and will ultimately create approximately 166 homes for purchase, 217 rental apartments and 30,000 square feet of commercial space.