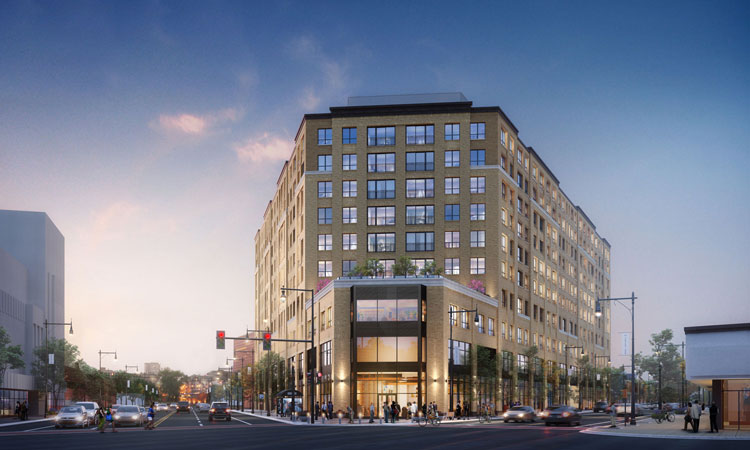 From sustainable building features to family-friendly dining venues to comfortable staff lounges, today's architects provide project blueprints that both inspire and pencil out.
By Jeff Shaw
Seniors housing as an industry is always changing, but the pace the past few years has been especially fast. From the temporary and permanent changes during the COVID-19 pandemic to the national labor shortage hitting this sector particularly hard — all against the backdrop of a massive wave of demand coming from the baby boomers in the near future — there are plenty of challenges to consider right now.
Architects and interior designers have to keep up with these challenges, ensuring that the physical plant of a seniors housing community matches how operators need to run the business, frontline employees do their jobs and residents want to live.
One method of pleasing all parties is to invite more of the greater community inside. While this can often deal more with site selection, such as making sure there is public transportation and retail nearby, some developers are including a retail element directly in the seniors housing community.
For example, Dora Kay, senior living sector leader for Moseley Architects, while speaking at France Media's InterFace Seniors Housing Southeast conference in Atlanta, cited one project where ground-floor retail was specifically requested. 
The developer ended up renting that space to a local art group.
"It gave a sense of purpose to the community," said Kay.
Alejandro Giraldo, a principal at Perkins Eastman, says his firm often designs amenities such as the fitness center, dining areas and salons to be accessible to residents, staff and the outside community.
"Groups are finding that not only serving their own residents, but opening to the world, is becoming important. Wellness programs and aerobic classes are in many cases being offered to the community and helping on the financial side."
In one case, a Lantz-Boggio client even requested "a swimming pool big enough for local competitions, a gym that could handle people of all ages and a fine-dining experience that would become a destination for families," according to Bill Foster, partner with Lantz-Boggio Architects & Interior Designers. The asset, named The Davis Community, is in Wilmington, North Carolina.
"Next to that community center with its multi-purpose space and dining experience is a courtyard park with an amphitheater for small concerts and events, such as weddings, that need the ability to shift indoors or outdoors in the unpredictable weather on the North Carolina coast."
Design with staff in mind
The elephant in the room, though, is always labor. How can design help recruit and retain workers?
"Whether you're in the kitchen or an office, you want efficient spaces that are easy to work in," said Foster while speaking at InterFace Seniors Housing Southeast. "One of the unique things we share with a developer is we're not just starting a community of new residents. We're also starting a new staff. 
"One of the ways we as architects can do that is by making a few little touches that say, 'We're not going to put that employee break room in the darkest, deepest dungeon of the building.' We can give it some windows, maybe a patio where they can put a barbecue grill out on — it doesn't take that much to be head and shoulders above your competition."
Residents and employees become more connected when the worker spaces are properly integrated into the design of the building, adds Giraldo.
"The days of the staff lounge being in the basement are gone," he says. "Some of those spaces are becoming prominent. It connects staff with residents. We've even seen clients looking for creative spaces where workers and residents can have meals, activities and interactions together."
While it's easy for owners to write off employee spaces, since they don't generate revenue directly, Todd Hudgins, senior vice president of senior living at Erdman, said that is a shortsighted approach.
"The metrics will show that if the staff is fired up and happy, they become your building leaders," Hudgins said, speaking at InterFace Seniors Housing Southeast. "Your leases come faster. All the metrics come faster."
Several architects even noted that some developers are including workforce housing in their plans, ensuring that employees have an affordable place to live near the property. Those apartments can either be a wing of the seniors housing property itself or nearby.
"In affluent areas — especially where the workforce traditionally would have significant transportation costs — we have had significant discussion about incorporating an element of workforce housing into the community to help with the industry labor struggle," says Nicholas Weidner, principal of senior living at HPI Architecture.
Childcare centers onsite provide both a benefit for workers and an intergenerational aspect for the residents.
One straightforward way to tackle labor is to mix up the unit mix, leaning more heavily on low-acuity spaces.
"We see a lot of our clients moving toward building independent living communities or adding this segment to an existing community," says Greg Irwin, partner at Irwin Partners Architects. "The advantage is that is takes less labor to run the community."
Keep costs in line
The next big challenge developers face today is the extremely high cost of construction. This is an area where designers have a more direct hand in the project, with the ability to keep those costs reasonable and help projects pencil out.
"Great design is critical for significantly reducing the impact of the current shortage of labor and materials," says Chuck Archer, principal at LRS Architects. "In today's market, it's vital to understand the construction process from every perspective and be prepared to adapt throughout the project to alleviate cost impacts and mitigate risk."
Strong partnerships between the developer and the design team are key.
"At the beginning of the project, we work with our building and development partners to vet the large-ticket items within the budget and tailor our design," says Rocky Berg, principal at architecture firm Three.
"During design we employ phased construction strategies and design alternates to provide budget flexibility. When initiating construction, we promote early purchasing of long-lead or escalating-cost items, which require approvals out of sequence but help stabilize the financial expectations," adds Berg.
"In the same way that owners cannot provide a service or benefit to their residents if it exceeds their construction or operational budget, a resident cannot afford to pay for these services and benefits if the cost has risen to exceed their budget," adds Ryan Griffiths, partner in charge of senior living communities for Beecher Walker Architects.
Lauri Moffet-Fehlberg, senior principal and senior architect at DAHLIN, notes that the partnerships should be established early and include the developers, architects, interior designers, general contractors and construction managers.
"We are working very closely with general contractors and construction managers in the very early phases of design — as they're closest to the current pricing of subcontractors — so that we can ensure we're producing high-quality design that is also financially feasible to build," says Moffet-Fehlberg. 
"We are very cognizant of efficiencies in buildings — making sure the structures stack, making sure the plumbing stacks," she adds. "Designing efficient buildings enables us to focus the budget on design elements that are responsive to the lifestyles and needs of the residents rather than it all going to the guts of the building."
One big shift since before the COVID-19 pandemic is that architects previously worked on a "just-in-time inventory mindset," and scheduled the rest of the plan accordingly, according to Dean Maddalena, founder and president of design firm StudioSix5.
"Because of the volatility of manufacturing labor, transportation and material availability, we have modified our procurement process to ensure timely delivery of orders," he says. "Our in-house procurement department researches the availability and lead times of product prior to ordering. Our designers and clients are notified when a specified product won't meet the installation schedule so alternatives can be identified and ordered.
"This may mean staging items in a warehouse longer, but that's minimal compared to not having products on site for installation."
Flexibility is the name of the game, according to Drew Roskos, senior project designer at Ryan A+E Inc.
"Architects and designers are bringing a creative mindset to the challenge," says Roskos. "For example, to manage increased construction costs we can think about how to multipurpose common spaces or come up with designs that lend themselves to prefabrication."
Humphreys & Partners Architects frequently looks at alternate types of materials to keep options open and affordable, says Yaohua Yu, the firm's director of seniors and student housing.
"Cost is the biggest issue we are facing," says Yu. "We are exploring different construction types to lower the cost — for example, incorporating wood in assisted living and memory care instead of steel, and reconfiguring units to be a little smaller while still providing an open, yet efficient floor plan."
Amy Cheever, principal and director of strategy at Cuningham, says that many more developers are looking to prefabricated and modular construction methods that haven't caught on widely in seniors housing yet. She cites a 2020 Dodge & Analytics report that noted that, of the companies that used prefabricated products or modular construction, 93 percent reported improved productivity, quality and schedule certainty.
"The process, which consists of the assembly of parts in an off-site environment (typically under controlled plant conditions) followed by placement on-site, can complete projects up to 50 percent faster than traditional methods," explains Cheever. 
"The demographic [wave of seniors incoming] places substantial pressure on a system already experiencing a shortage of seniors housing. With this in mind, many are turning to the off-site fabrication methods, as this will help to battle labor shortages and reduce construction time," adds Cheever.
Trends that are here to stay
Keeping up with current trends can be a tricky proposition. Making sure a community stays modern is the key to success and longevity, but hopping on a trend that turns out to be temporary can mean wasted money and space.
So, which of the current trends do architects believe are permanent, rather than at risk of being a flash in the pan?
"Hospitality is here to stay in senior living, along with wellness and healthcare," says Connie Wittich of Metropolitan Studio. "Regenerative medicine and preventative measures for health are just breaking the surface. People will be living longer, productive lives."
Multiple sources say that the current style of dining is permanent. There's no going back to a single venue, limited menu and restricted hours, says Rachelle DeGeorge of Studio 121. Residents expect flexibility and options.
And that's just the beginning of what the senior of the future will expect from his or her home.
"With technology at the forefront of residential and commercial design, smart-home devices and appliances within the apartment home is a trend continuing to grow," says DeGeorge. "Due to the pandemic, refrigerated storage for home-delivered groceries and medicines are needed by the delivery entrance or front door, and the larger quantity of mail-order shopping requires larger package rooms."
She also lists a number of features that are "designed for marketing but not especially utilized by residents," particularly in independent living, such as beauty salons, bar seating, arts and crafts rooms, libraries and internet cafes/business centers.
The preferred unit mix is always in a state of flux, notes Steven Leone, seniors housing and healthcare principal at Spiezle.
"The trend is toward less skilled care and more independent and age-appropriate housing," he says. "Additionally, the need and priority of resort-like amenity options are most likely here to stay."
Weidner of HPI says the indoor/outdoor synergy and biophilia are trends that are built to last.
"Daylighting of the building is critical, and many older communities fail in providing adequate daylight levels to the shared spaces and the resident units," she says.
Other long-term trends cited by the architects include sustainability, telehealth and other technologies, lifelong learning opportunities, HVAC design, roof decks and private balconies.
Griffiths of Beecher Walker, though, says that the variety of options are what make it a dynamic time to be in the seniors housing sector.
"Honestly, I really have nothing but positive things to say about design trends in senior living," he says. "I love the variety of options that are coming to the market."
Of course, hot new trends are all well and good for ground-up development. Architects need to get especially creative when designing a renovation to retrofit an older building, according to Giraldo of Perkins Eastman.
"Greenfield development is a blank piece of paper, so it is a completely different challenge than going into a 40-year-old building with these concepts. We have to think about how we address these concepts in these spaces. The challenge is how to work within the limitations." n