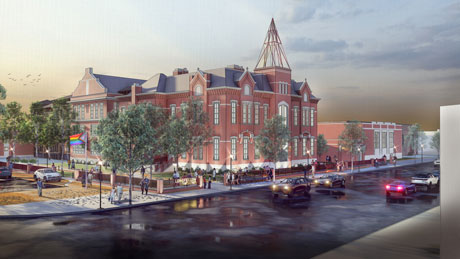 DAYTON, Ohio — United Church Homes has unveiled plans for Longfellow Commons, a 126-unit active adult community targeting LGBTQ seniors in Dayton.
The project will include the redevelopment of the former Longfellow School on Salem Avenue and ultimately comprise a new apartment building and shared community spaces on its two-acre campus
CareSource, a nonprofit health plan and the Dayton area's largest employer, recently donated $1 million to United Church Homes to support the development. The community will be the first senior living community of its kind in Dayton and only the fourth in the nation, according to CareSource.
Longfellow School was located in Dayton's historic Grafton Hill neighborhood until its closure in 2017. The G.F. Bailey Company and Weyland Ventures purchased the campus in 2020, and the project has received federal funds and competitive Historic Tax Credit approval.
United Church Homes, based in Marion, owns and manages more than 80 retirement communities in 14 states and two native American nations. According to United Church Homes, 48 percent of LGBTQ couples experience adverse treatment when seeking seniors housing, and community members are more likely than heterosexual people to experience negative physical and mental health challenges.