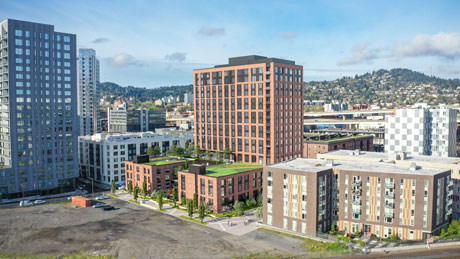 PORTLAND, Ore. — Alliance Residential has started construction on Holden of Pearl, a 16-story seniors housing community in the Pearl District of downtown Portland.
The 237-unit community will offer apartments for rent that cater to residents seeking both independent and assisted living, while also reserving a separate, private community for memory care residents.
The asset includes 28,000 square feet of indoor amenity space. Milestone Retirement Communities will operate the property upon completion.
Although a development cost was not disclosed, CBRE arranged a $103 million construction loan for the project. Aron Will, Austin Sacco and Matthew Kuronen of CBRE Senior Housing arranged the floating-rate loan with interest-only payments for the full term.
Situated on 1.3 acres, the site is located in one of Portland's most desired areas, home to some of the city's best-known restaurants, art galleries, shops and boutiques. Within a three-mile radius, the 2020 median home value and the median household income are $591,215 and $76,811, respectively.