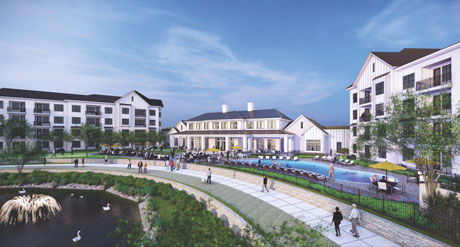 MATTHEWS, N.C. — Capstone Communities and Liberty Senior Living have started construction of Inspire Royal Park, an active adult community for persons age 55 or older in the Charlotte suburb of Matthews.
Approximately 30 percent of Matthews residents are over age 55, according to the developers. Construction costs were estimated at $36 million.
Inspire Royal Park will feature 204 residences comprised of 20 free-standing cottages with private attached garages and 184 loft apartments offering one, two or three bedrooms.
Harrison Street Real Estate Capital, a Chicago-based private equity real estate investment firm, will provide capital for the project, along with construction financing provided by Iberia Bank and Renasant Bank. Newmark arranged Harrison Street's involvement in the project.
CBI Construction Services, the in-house construction arm of Capstone Communities, will serve as the general contractor for the project. A Liberty affiliate will manage marketing, leasing and property management. Houston-based Meeks + Partners is the project architect and their in-house interiors group, MP Studio, provided design services.
Community and pre-leasing of residences began this spring, and first move-ins are scheduled for winter 2021. Full project completion is expected in early 2022.