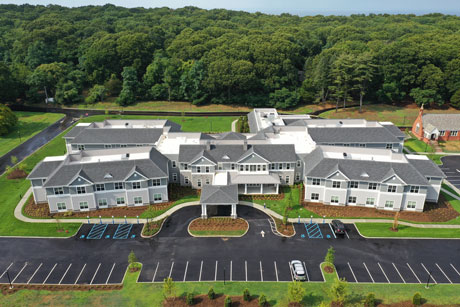 KINGS PARK, N.Y. — EW Howell Construction Group has completed work on St. Johnland Assisted Living in Kings Park.
The two-story, 68,000-square-foot facility on Long Island's North Shore offers 80 residential units and 100 beds.
St. Johnland is a provider on Long Island of skilled nursing care, with specialties in dementia, head injury rehabilitation, subacute care and adult day care. The new assisted living facility was built adjacent to the existing St. Johnland Nursing Center on the 100-acre complex that the nonprofit organization owns.
KDA Architects designed the community to have four wings of residential units, rather than the long, linear design found in many care facilities. This enables easier mobility for residents and nursing staff and provides each resident with the views of the lush nature surrounding the rooms.
Approximately 75 percent of the residents will be Medicaid eligible, which opens the facility to people of all financial backgrounds.