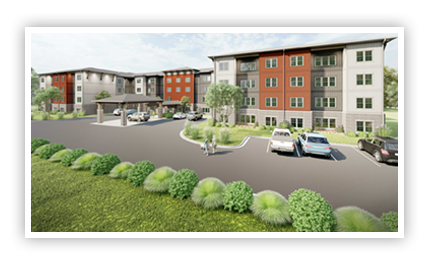 STOCKBRIDGE, Ga. — A joint venture between TriStar Commercial Real Estate Investments, Zimmerman Properties and nonprofit Star-C has broken ground on a multifamily complex that includes seniors housing in Stockbridge, approximately 18 miles southeast of downtown Atlanta.
The $76 million property includes the Villas at Mt. Zion, a 96-unit independent living community, and the Flats at Mt. Zion, a 210-unit multifamily community for families with children who attend Mt. Zion elementary and primary schools.
The development is the first in an alliance between Zimmerman Properties, an affordable housing builder and developer, and TriStar, an investment firm focused on commercial real estate and mission-based affordable housing funds. The Mt. Zion projects target singles, families and seniors who earn within up to 70 percent of area median income.
Completion is scheduled for summer 2023.
"The importance of and need for more equitable housing for Clayton [County's] residents is vital," says Jeffrey Turner, chair of the Clayton County Board of Commissioners. "We are glad to be part of such an innovative model of public-private-nonprofit partnership and hope to see more efforts like this wonderful collaboration, as kids, families, the apartment community, the local schools and the community at large benefit."
Zimerman and TriStar, with the cooperation of Star-C, are exploring similar ventures leveraging LIHTC in other Southeast markets such as Birmingham, Charleston, Charlotte and Greenville.