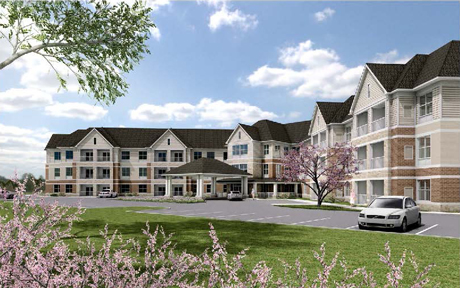 ANN ARBOR, Mich. — Lockwood Cos. has broken ground on Lockwood of Ann Arbor, a mixed-income seniors housing community in Ann Arbor.
The property will be a three-story, 168,130-square-foot building with 154 independent senior apartments, including 65 units dedicated as affordable housing.
Lockwood of Ann Arbor represents an approximately $45 million investment in the City of Ann Arbor and Washtenaw County.
Scheduled to open in Summer of 2023, Lockwood of Ann Arbor will feature 89 one-bedroom units and 65 two-bedroom units.
The Ann Arbor Area Community Foundation projects a rising senior population in Washtenaw County. The organization points to the 2010 U.S. census, which found 53,000 adults age 60 and over in Washtenaw County. By 2040, this number is expected to rise to 110,000.
Monthly rents for the affordable units will range from $864 for a one-bedroom apartment to $2,750 for a two-bedroom apartment.