WASHINGTON, D.C. — U.S. seniors housing residents average more than a dozen chronic conditions, creating significant challenges for residents and driving healthcare costs, according to an analysis by NORC at the University of Chicago (NORC), funded by the National Investment Center for Seniors Housing & Care (NIC). The analysis indicates a significant opportunity for operators to integrate healthcare with housing to add more value for residents.
This high prevalence of chronic conditions costs seniors housing residents $3,000 to $4,000 in out-of-pocket costs per year. It also drives annual healthcare spending of $20,000 per resident on average, about $4,000 above the annual spend for the average Medicare beneficiary ($16,000).
NIC shared the analysis during a press briefing last Wednesday, Sept. 14, on the opening day of the 2022 NIC Fall Conference held at the Marriott Marquis in Washington, D.C. The conference attracted approximately 2,800 attendees, a 15 percent increase from last year's conference.
"Seniors housing providers have a tremendous opportunity to make a positive impact in the lives of residents by partnering with healthcare providers who are incentivized to deliver good health outcomes," said Brian Jurutka, NIC's president and CEO. "It's important for seniors housing providers to understand how residents of their buildings interact with the healthcare ecosystem to better meet residents' needs."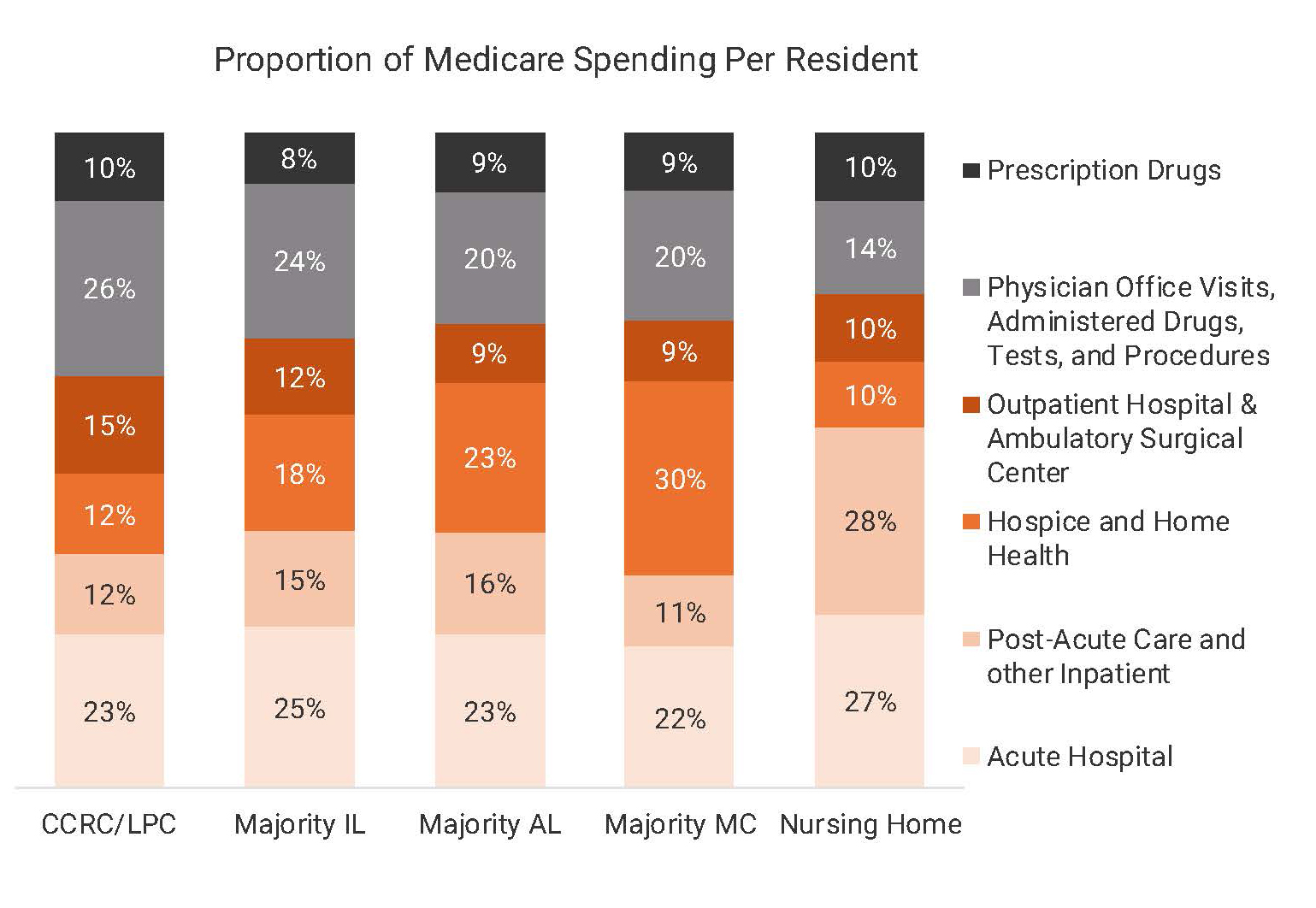 As residents get frailer or develop more health conditions, data show their healthcare utilization increases. The analysis underscores that seniors housing residents have significant acute inpatient spending. Inpatient hospital and other institutional spending accounts for 62 to 76 percent of resident healthcare spend.
The analysis also shows that approximately two-thirds of seniors housing residents have a behavioral health diagnosis, including major depression. That number increases to three in four for memory care residents.
"This analysis shows that not all seniors housing residents are equal when it comes to their health and that behavioral health conditions are increasingly common," said Caroline Pearson, senior vice president of healthcare strategy and lead researcher at NORC. "As calls for mental health support for all people living in America increases, stakeholders should consider the mental and behavioral health support that seniors in particular need."
Researchers studied a cohort of more than 250,000 seniors housing residents enrolled in Medicare fee-for-service. To view the full results, click here.