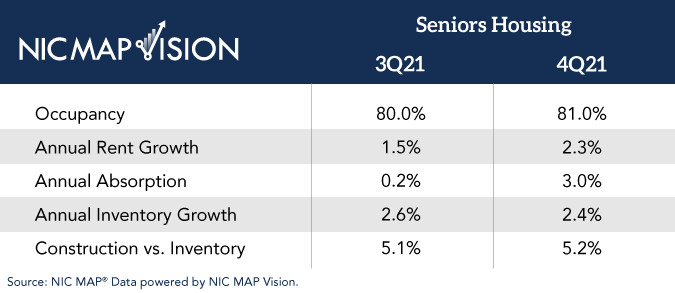 ANNAPOLIS, Md. — Seniors housing occupancy increased for the second consecutive quarter and rose to 81 percent in the fourth quarter of 2021, a 100 basis-point increase from the third quarter and a 230 basis-point increase from a pandemic-related low of 78.7 percent in the second quarter. By comparison, the occupancy rate was 87.8 percent in March 2020, the first full month of the COVID-19 pandemic.
That's according to new data from the National Investment Center for Seniors Housing & Care (NIC), an Annapolis-based nonprofit firm that tracks industry data gathered from 31 primary metropolitan markets through its NIC MAP Vision product. Private-pay seniors housing comprises independent living, assisted living and memory care.
Occupancy did not appear to show any significant impact from the COVID-19 Delta variant on occupancy, NIC notes. Impact from the Omicron variant may not be known until the first quarter of 2022.
"Fourth-quarter occupancy is often negatively affected by seasonal illnesses like the flu, but occupancy continued to increase despite the challenges posed by the Delta variant," says Beth Burnham Mace, chief economist for NIC. "The data suggest that infection and safety protocols put in place during the first phase of the pandemic are keeping residents safe and driving continued move-ins into the properties by new residents. These conditions, as well as relatively limited near-term inventory growth, should continue to help seniors housing bounce back from pandemic-related occupancy losses."
Pent-up demand, a modest increase in supply and slow construction starts in 2020 contributed to the occupancy increase in the second half of 2021, according to NIC. Demand increased by 21,029 units in NIC MAP's primary markets in the third and fourth quarters, the strongest two-quarter unit increase since NIC MAP Vision began reporting the data in 2005.
Meanwhile, inventory increased by 6,687 units ­— the smallest two-quarter unit count increase since 2015. Construction activity remained subdued, which supported continued moderate gains in inventory growth. There were 35,340 units under construction in the fourth quarter of 2021, just slightly more than in the thirrd quarter, which was the weakest pace since 2015.
To view the full report, click here.