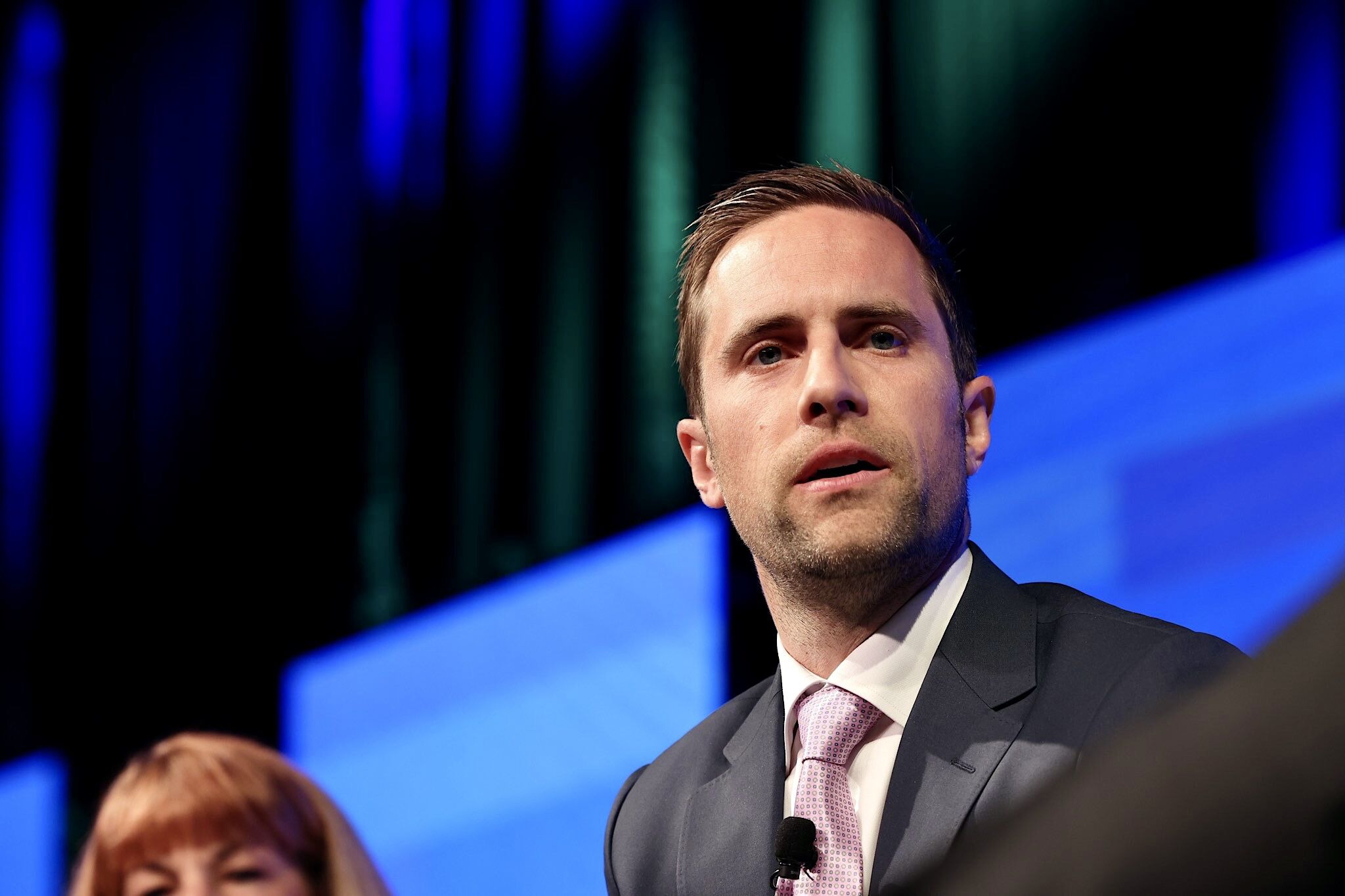 Son of an industry legend sets out to build his own legacy and transform seniors housing.
By Jeff Shaw
If he had stuck with the plan, Adam Kaplan would have taken the reins at one of the 10 largest seniors housing operators in the country. 
The son of Senior Lifestyle co-founder and chairman Bill Kaplan, Adam worked for his father's company for nine years in various roles. The initial idea was to hand over the company, which currently operates more than 15,000 units, from father to son. Bill Kaplan was inducted into the ASHA Hall of Fame in 2018.
But Adam's entrepreneurial spirit got the better of him and in 2016, he launched owner-operator Solera Senior Living in Denver. Over the past six years, he's grown Solera's portfolio to 13 properties totaling 240 independent living, 867 assisted living and 443 memory care units.
The luxury properties are usually the highest rents in their markets, with monthly rents of approximately $6,000 for independent living, $8,500 for assisted living and $10,000 for memory care.
Adam, who is now 40, says his goal is to infuse young blood into the industry, innovate operations and prove that new concepts are needed and will work. 
"There's still a natural resistance to change," says Adam Kaplan. "People are skeptical of the way we're growing, but if you look at the growth and the capital and the talent, it's evident that this model is very viable."
Seniors Housing Business spoke with Kaplan about his decision to forge his own path, his ideas for change and the future of the senior living industry.
Seniors Housing Business: Walk us through your career path that led to founding Solera.
Adam Kaplan: I started out interning in restaurants and hotels in high school and college. My last internship in college was for Aramark, working at the United Nations building in contract food service. While I enjoyed my experience in operations, I thought it would be important to lay more of a foundation on the investment side.
I found a great job with Merrill Lynch Capital and spent three years there as an underwriter. After those three years, my dad approached me to join him at Senior Lifestyle. Ultimately I decided to leave the capital side and go into the family business, where I spent nine years in various operational capacities.
I oversaw the operation of a building for a time as an interim executive director. Then I sourced and integrated our first third-party management contract. I later moved into a position on the investment committee and oversaw sales, marketing, human resources, food service, ancillary businesses and strategic dispositions.
On April 1, 2016, I decided to leave and launch Solera.
SHB: Did your father's involvement in the industry help steer you toward it?
Kaplan: Throughout high school and college, I attended the ASHA (American Seniors Housing Association) conference with my dad.
My dad went to school for hotel and restaurant management. He exposed me to his passion for hospitality. I was interested in opening my own restaurant. I had this great experience in culinary operations.
I wanted to go a different direction than senior living because I thought it was important to have my own identity. But at Senior Lifestyle, I really liked the team, the culture and the opportunity. That's ultimately why I decided to do it.
Then once I learned the business, I decided that this was really an incredible industry for someone that was from a younger generation because there had been a lack of innovation. We still today have this need for the next-generation talent that comes from outside the industry that is looking to shape the future of the business. 
You look at hotels and restaurants, they're much more mature industries. The opportunity for innovation is much greater in the senior living business because it's still much more in its infancy and is continuing to evolve relative to traditional hospitality sectors.
Leaving the mothership
SHB: How did your time at Senior Lifestyle prepare you for Solera?
Kaplan: I would not have been able to launch Solera without that experience. It's a much easier path to come out of college and go into equity, debt, REITs or advisory as opposed to operations. There's more structure on that side of the business, more resources to train someone that comes into senior living without much experience. Also, it's more attractive because you can have a better work-life balance.
Because my dad wanted me to come into the business and succeed him, I knew I needed to learn operations. I immersed myself and learned everything about the business.
It was an incredible training ground. Without that experience, I wouldn't have been able to instill the confidence in either equity investors or potential lenders, or even potential talent, to come be a part of Solera.
In the early days, you don't have a track record. They look to your pedigree. Because I had the pedigree of Senior Lifestyle and I had relevant experience in the trenches, I could get a start. Then you must develop your own track record and prove you're capable of doing it on your own.
SHB: Did your hospitality experience help as well?
Kaplan: It's a tremendous asset. It's shaped who we are at Solera. There used to be a debate in senior living: Are we healthcare or hospitality? The reality is we're both. The debate is over.
Hospitality is such an important ingredient in the success of a development and its operations. Without it, you're not relevant.
We draw on a lot of successful themes from resorts, hotels and country clubs. We've attracted talent from hospitality. Our head of investments worked in hospitality, and so too did the executive director for one of our newly opened communities. We've hired students out of hotel and restaurant management programs. Because of my background, I know they have a transferable and needed skill set. It's helped in recruiting because I can walk in their shoes.
If you only look at operations through a healthcare lens, you're missing a key ingredient that drives marketability and the consumer experience.
SHB: What has it meant for you personally to break out on your own and succeed with the launch of your own company?
Kaplan: I grew up with a very entrepreneurial father. My dad came from nothing in Brooklyn. He was raised by his mom, and he wanted to provide a different quality of life for his family. 
He pioneered and formed Senior Lifestyle when I was a newborn. I grew up at the dinner table watching the life of an entrepreneur. 
A lot of people would be satisfied inheriting that and building upon it, taking it to the next level. For me, I realized that wasn't going to be sufficient. I needed to be my own person. I couldn't do that within the walls of Senior Lifestyle. I needed to step outside of the business and launch my own company to experience what it was like to be an entrepreneur, to take the risks, to fail, to overcome adversity.
From the ground up
SHB: Does Solera have an ownership stake in its properties and, if so, how much?
Kaplan: In most of our projects, we are playing the role of the operator, developer and investor. If we acquire a property, we are operating and investing. We do have some select properties that we'll manage with an incentive arrangement for strategic partners.
We typically have a 5 to 10 percent ownership interest.
SHB: Do you prefer to acquire or develop?
Kaplan: Historically we've been heavily weighted to development — about 75/25. We have been shifting that in anticipation of the change in the markets. In the near term, I expect that to flip or even weight more toward acquisitions, and then it will balance out in time. I imagine that at some point development will return, although it's probably going to be three to five years before it will be sensible to be weighted toward development to the degree we were.
SHB: I notice Solera has major geographic diversity, rather than following the conventional wisdom of having a regional focus or pockets of properties in one market. What caused you to choose this approach?
Kaplan: We are geographically agnostic. We'll consider any project as long as it's in a primary market or large secondary market and within a one-hour drive time to a major airport. We have a brand strategy as opposed to a geographic strategy.
Historically, everyone pursued a geographic strategy. That made a lot of sense when the industry was less mature.
The issue with that is you can force yourself into doing deals you shouldn't be doing. An operator ends up having a large CCRC (continuing care retirement community), and then an assisted living/memory property and a standalone memory care property, a new vintage and an old vintage, and one that's market rate and one that's luxury. 
It's difficult to manage a portfolio efficiently when your growth is so opportunistic. We decided to pursue a brand strategy. We only pursue deals if it aligns with our core competencies. This strategy is much more relevant today, given the segmentation of our industry. You'll see other operators following suit.
SHB: What is that brand proposition?
Kaplan: We develop in urban locations or first-ring suburbs — we're not in suburban or rural locations. We're located in areas that are desirable. If you didn't build seniors housing in these areas, you'd be building multifamily or retail.
We build buildings that are much more contemporary in their design. Our programming and interior architecture are quite similar to what you'd expect in a modern multifamily project or a modern resort. We have open kitchens, multiple dining venues, full-service bars, fitness centers, therapy gyms and a lot of dedication to outdoor spaces. Our designs ensure we're bringing natural light into our buildings.
The apartments in assisted living have a unit mix that appeals to what the consumer wants today. We are much more heavily weighted to one-bedroom and two-bedroom units as opposed to studios. We design to include in-unit washers/dryers, cooktops, balconies — what you'd expect in independent living —  so the resident is not taking a step down.
We intentionally try to lean in on new technologies that will either improve the resident experience, outcomes or operating efficiencies because that's what we're going to need in the future.
From a program perspective, there is a significant focus on culinary experience and technology. We always hire from restaurants, hotels and country clubs. We have beverage programs with wines and cocktails. We host pop-up dinners in the private dining room where the chef provides a special experience.
SHB: How big do you want to grow?
Kaplan: We do not have a target size. It depends on the number of quality opportunities that align with our strategy. We have fortunately been very measured in our growth to date. We are starting to see more compelling acquisition opportunities, so I wouldn't be surprised if our pace of growth will accelerate.  
SHB: I notice Solera likes to partner with popular local businesses, like coffee roasters or ice cream companies. What led to those partnerships and how have residents reacted?
Kaplan: We're catering to a high-end clientele. The clientele is typically used to country clubs or traveling the world. Unfortunately, sometimes when you get to a certain age — it could be you're in assisted living and you're in your mid- to late 80s — you're not dining out very often anymore. You might be eating three meals a day, 365 days a year in the community. 
Because of that, it's really important for us to curate a special experience for the residents. I wanted to make sure we not only offered the coffee and ice cream from the distributor, but also curated some of the favorite products in that market. These companies have great brands. Our residents and their families recognize those brands and associate them with quality. 
It is such a small detail, but it is a significant way to add to the level of satisfaction by bringing some of those local brands into the operation. We try to find as many ways as possible to connect with the local community. We also work with local artists and curate local art for the community.
What we don't want to be is cookie-cutter. We don't want someone to say, "That's a Solera building because of XYZ." We want it to fit with the local market.
My kids went to an opening recently. They wanted to come because they wanted the local ice cream. To appeal to grandkids and make it desirable for them is a small detail, but it speaks to those other stakeholders we have to think about.
To rise above
SHB: What do Solera's future growth plans look like?
Kaplan: We're looking to acquire newer vintage properties, portfolios or even management companies. I anticipate that it will be a busy period for us. I built this company to scale up. My executive team comes from larger operators. They're hands on and can operate in our current structure, but they have the capacity to take on more responsibilities. We're in a good position. 
We have a capital partner in Wheelock Street Capital that is motivated to deploy equity into the space.
We still have a couple development projects that we're moving forward on, but we won't break ground on anything in 2023. 
SHB: How is Solera battling the current headwinds facing the industry, most notably the rising interest rate environment, high inflation and the issue of labor availability?
Kaplan: What is very clear to me is that we need to reinvent ourselves. Operators and capital are going to need to be more innovative to successfully overcome this adversity we're going to face the next couple of years. That could be in the form of generating more top-line revenue through ancillary services and programs; it could be creating more operating efficiencies; it could be introducing technology that enables you to operate more successfully; it could be tapping into healthcare partnerships with companies that are presenting innovative care delivery models.
There are going to be a lot of winners and losers the next couple years. The companies that will be more successful are not simply relying on the same way of operating. They are also challenging themselves on how they approach the operation differently. These times — specifically the degree of wage inflation — force us to think more strategically about the best model for the future.
There's no bigger focus as an operator than on talent. I can't reinforce that enough. We always focus on well located properties and nicely designed buildings, but the greatest ROI (return on investment), the activity I can spend the most time on, is making sure that we hire great talent and that we retain great talent through having a strong, high-performing culture.
One of the biggest differences between Solera and a lot of other companies is the retention of our teams. One thing I'm really proud of is that of the five development projects we've opened, every single executive director that started with us at those properties is still with us today.
We spend a lot of time making sure we hire the right people on the front end, support them through adversity and build them up to increase the likelihood of success.
There is a degree of wage inflation we've never seen before in senior living. I believe we're never going back. We're going to officially be in a recession soon, but we're not going to roll back the clock on wages. There's a new floor. We must figure out how to operate successfully in that environment.
SHB: To what degree has Solera been able to raise rents over the past few years to offset the inflationary pressures?
Kaplan: We have been successful in pushing rents 7 to 10 percent. That said, it is not sufficient to offset the degree of wage escalation. Thus, we have experienced margin compression.
SHB: What does the name Solera mean?
Kaplan: I was looking for a name with a positive association with aging. Wine falls into that category. It is one of the few things that actually gets better with age.  
I wanted the name to be aspirational in nature. Solera is a Spanish word for blending of wines of different ages. This fit well as my vision was to build projects in more urban infill locations in which seniors were more of an integral part of the community. The projects would be intergenerational in design, drawing in people of all ages from the broader community. 
SHB: What's something people in the industry would be surprised to learn about you?
Kaplan: People assume that because I've had success aligning with best-in-class developers and investors, attracted really good talent, and attended Cornell [University], that I was a straight A student. I wasn't. I struggled in school. I was not a great test taker. 
For me, I had to work harder at everything I did. I feel like I've had to really learn how to overcome adversity to succeed.
I don't think people on the surface would assume that's the case. It's drive and work ethic and resilience and persistence. Every day I work hard to prove myself. That's what I would attribute to the success that I've achieved to date. I never rely on my natural abilities. I know that I need to work harder and that I need to surround myself with the best people to continue to build and grow Solera the way that I want for my team. n