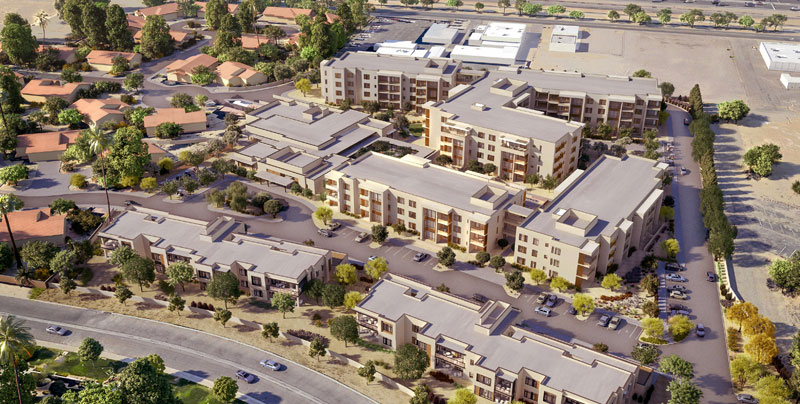 SUN CITY, Ariz. — Ziegler has arranged $136.8 million of public bonds and bank capital for People of Faith Inc.
The borrower has planned an expansion project known as Inspirata Pointe at its existing continuing care retirement community (CCRC), Royal Oaks, in Sun City.
The financing comprises $90.8 million in tax-exempt bonds and $46 million in variable-rate entrance fee redemption bonds.
Royal Oaks was established in 1981 on approximately 50 acres 22 miles northwest of Phoenix. The CCRC currently offers 258 independent living apartments, 102 independent living private residential garden homes, 59 assisted living apartments, 56 memory care private suites and a 60-bed high acuity assisted living care center, which replaced the former skilled nursing level of care on campus.
Inspirata Pointe is the first phase of Royal Oaks' 20-year master plan. This phase will grow the current campus by 8.1 acres to the west, and enhance the amenities offered to residents. On the new property, Royal Oaks will construct 156 new independent living accommodations comprising two-story, villa-style homes, a three-story apartment building and a four-story apartment building.
The project also includes a new culinary center offering three new dining venues, which will anchor the west end of a new amenity "main street" planned for future phases.