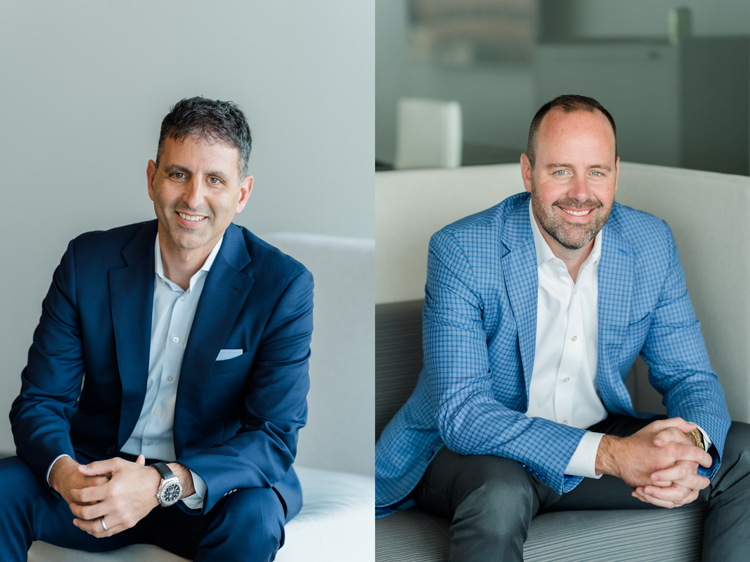 Fledgling firm manages to close over $750 million in deal volume during first year.
By Matt Valley
In April, VIUM Capital celebrated its one-year anniversary, no small feat considering the firm was launched during the COVID-19 pandemic. Led by industry veterans Kass Matt and Steve Kennedy, formerly of Lancaster Pollard, VIUM Capital provides financing to the seniors housing and healthcare sector. 
More specifically, VIUM Capital offers FHA/HUD and proprietary bank bridge financing and has partnered with a large Midwestern-based lender to provide loans backed by Fannie Mae and Freddie Mac. Privately owned and headquartered in Columbus, Ohio, the firm is also licensed with the Securities and Exchange Commission to offer municipal advisory services for clients seeking access to the tax-exempt markets.
In its first year alone, VIUM Capital closed 25 transactions totaling over $750 million in the seniors housing and healthcare space. The closings included funding for 63 separate projects across 17 states coast to coast and consisted of bridge, FHA/HUD and tax-exempt bond financings. As of mid-summer VIUM was nearing the $1 billion mark in deal closings.
Prior to co-founding VIUM Capital, Matt spent 14 years at Lancaster Pollard, including the last five years as the firm's president. Kennedy spent 18 years at Lancaster Pollard as a senior investment banker and member of the firm's executive committee. Combined, Matt and Kennedy have originated transactions in excess of $5 billion.
In addition to its home office in Columbus, Ohio, VIUM Capital has offices in Austin, Texas; Boca Raton, Florida; and Carmel, Indiana. Seniors Housing Business reached out to the two veteran finance executives to gain additional insight into their firm's strategy and the near-term outlook for the seniors housing sector. 
SHB: The pandemic hit the U.S. full force in March 2020, about the time the two of you launched VIUM Capital. What was that experience like coming out of the gate?
Kass Matt, Steve Kennedy: Launching on April Fools' Day — at the onset of a global pandemic — is certainly something we won't forget. Like the rest of the industry, it was pretty wild. We were working from home, seeing the capital markets start to freeze up, but most importantly looking for opportunities to assist our clients as they tried to deal with a once-in-a-generation crisis that was unfamiliar to everyone. 
Fortunately, the two of us have worked together for over a decade, and we're fully committed to this venture. As a new company, we were able to consciously approach it as an opportunity rather than a threat. Our capital partner also leaned in with us. That mindset and partnership turned out to be invaluable.
SHB: Does the name VIUM Capital hold any particular significance? Is there a back story to the name?
Matt, Kennedy: VIUM is a derivation of a few Latin words meaning "to revive or give life" and "partnership." Starting VIUM Capital and the revival of a partnership has dual meaning for both our partners as well as longstanding clients and industry relationships.
SHB: How many employees does VIUM Capital currently have?
Matt, Kennedy: We are up to about 20 employees. 
SHB: VIUM offers FHA/Ginnie Mae financing, bridge loans and advisory services, as well as Fannie Mae and Freddie Mac agency financing. Many financial providers already are entrenched in those lines of business. How does VIUM try to stand out from the crowd?
Matt, Kennedy: There are a few differentiators. First, we have a proprietary bank bridge product that offers relatively high leverage, recourse or non-recourse financing, and we can lend up to nearly $100 million without syndication. Second, we can offer both Freddie Mac and Fannie Mae products, not just one of them. Third, our senior leadership and originations team has as much seniors housing and healthcare financing experience as any lender in the sector, particularly with the HUD 232 LEAN program. Finally, the members of our senior team are all owners in VIUM, just like our clients own their businesses. That alignment is the secret sauce. It drives collaboration, and it drives it over the long term.
SHB: Is there a sweet spot in terms of the dollar amount of the loans that VIUM provides? 
Matt, Kennedy: Our sweet spot is between $10 million and $50 million, but that being said we have closed several loans under $10 million and several over $50 million. 
SHB: The company announced in early July that it had hired Scott Tittle as the firm's first head of government relations and external affairs. Tittle most recently served as executive director of the National Center for Assisted Living (NCAL) for six years. What does your hiring of Tittle enable VIUM Capital to achieve that it might not otherwise without him on board?
Matt, Kennedy: Scott will strengthen our advocacy for clients in Washington, D.C., and improve the way in which we serve our clients as an advisor, not just a lender. A major theme that drives our hiring is getting the right people on the bus. Scott's reputation is sterling, and we've known him for over a decade. He's a professional, and we are thrilled to add him to the team.
SHB: Both of you worked at Lancaster Pollard for a long time. What did you learn most about the lending industry during your tenure at Lancaster Pollard? Are there any qualities, philosophies or strategies of your former employer that you are trying to integrate into the new company?
Matt, Kennedy: We carried over a few important themes from when we were growing Lancaster Pollard from basically a start-up to a mature venture. First, we have an unwavering dedication solely to the seniors housing and healthcare space that allows us to bring deeper insight and strategic vision to our capital structuring. Additionally, the alignment among our team, the regional focus of our relationship bankers, and careful training are all key pillars to the construction of the VIUM platform. 
SHB: VIUM Capital has closed nearly $1 billion of financing in the seniors housing and healthcare space since its inception. Can you share with us the production goal for the next year or two, and which areas of the seniors housing and healthcare space you want to focus on the most?
Matt, Kennedy: We expect to close $1 billion or so of financing per year over the short term. Within the senior living market, 50 percent of our funding should be for skilled nursing facilities and 50 percent should be for independent living, assisted living and memory care communities.
SHB: COVID-19 led to a sharp drop in occupancy and net operating income (NOI) for owner/operators of seniors housing for much of the past year. From a financial performance standpoint, is the worst over or is there more fallout still to come?
Matt, Kennedy: We believe the worst is over for the majority of owner/operators, but there is still fallout to come for some markets and providers. We're continuing to add back one-time COVID expenses when underwriting trailing 12-month NOI, but we expect those add-backs to start trailing off as we underwrite three-month trailing NOI. 
The federal stimulus efforts were critical, helping to subsidize losses from decreases in occupancy and increases in the expense of personal protective equipment (PPE). Continued governmental support may be important given the increasing risk presented by the COVID Delta variant.