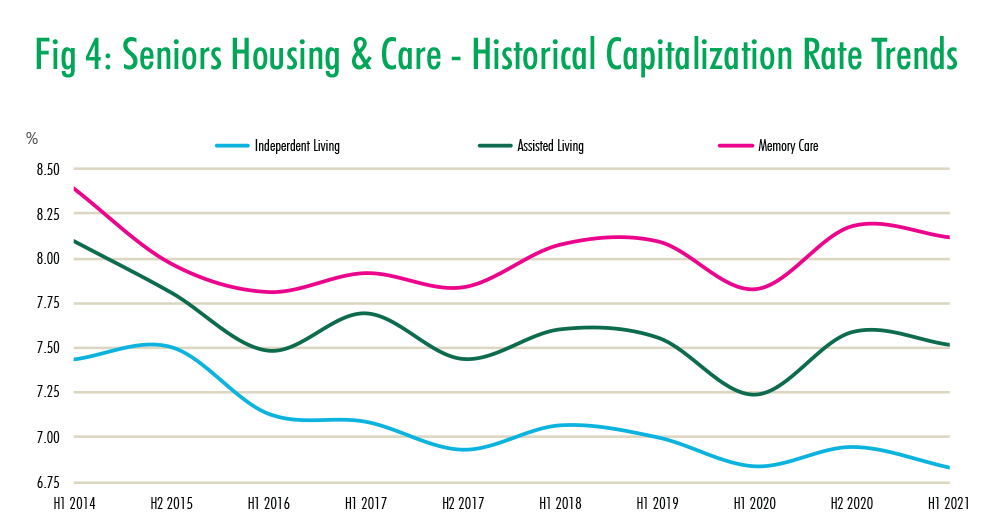 DALLAS — Seniors housing has shown strong resilience to the adverse impacts of the COVID-19 pandemic, with the vast majority of operators reporting pent-up investment demand and positive leasing trends in the first half of 2021, according to the CBRE U.S. Seniors Housing & Care Investor Survey.
The Dallas-based firm sends out the survey twice a year to investors, developers, lenders and brokers throughout the United States. Responses closed in February, and the number of respondents was not disclosed.
Investors responding to the survey indicate significant investment growth is likely in the short term, with a full recovery expected in 2022. In the mid-term, investors are encouraged by an aging population and a greater understanding of the threats posed by the pandemic.
Compression in overall capitalization rates for seniors housing in 2021 to date show a reduced perception of risk for investors posed by the COVID-19 pandemic. Seniors housing investment volume increased by 31 percent in the first quarter of 2021 compared with the previous quarter. First-quarter 2021 volume represented a 209 percent increase from the levels recorded at the pandemic's outset in second-quarter 2020.
The majority of respondents (93 percent) expect seniors housing rents to hold firm or rise modestly over the next 12 months. Most (90 percent) expect occupancy levels to improve over the next 12 months. A majority of respondents (91 percent) believe that seniors housing communities will reach pre-pandemic occupancy levels within 24 months, with 75 percent indicating a re-absorption period of 18 months or less.
"The seniors housing industry story is one of resilience and determination by the community-level staff, and those who support them, in providing care for the most vulnerable among us," says James Graber, national practice leader of Seniors Housing & Healthcare for CBRE's Valuation & Advisory Services. "Investors have seen this, and have come to the table, moving on deals with the largest players back in the market in a meaningful way."
To view the full survey results, click here.