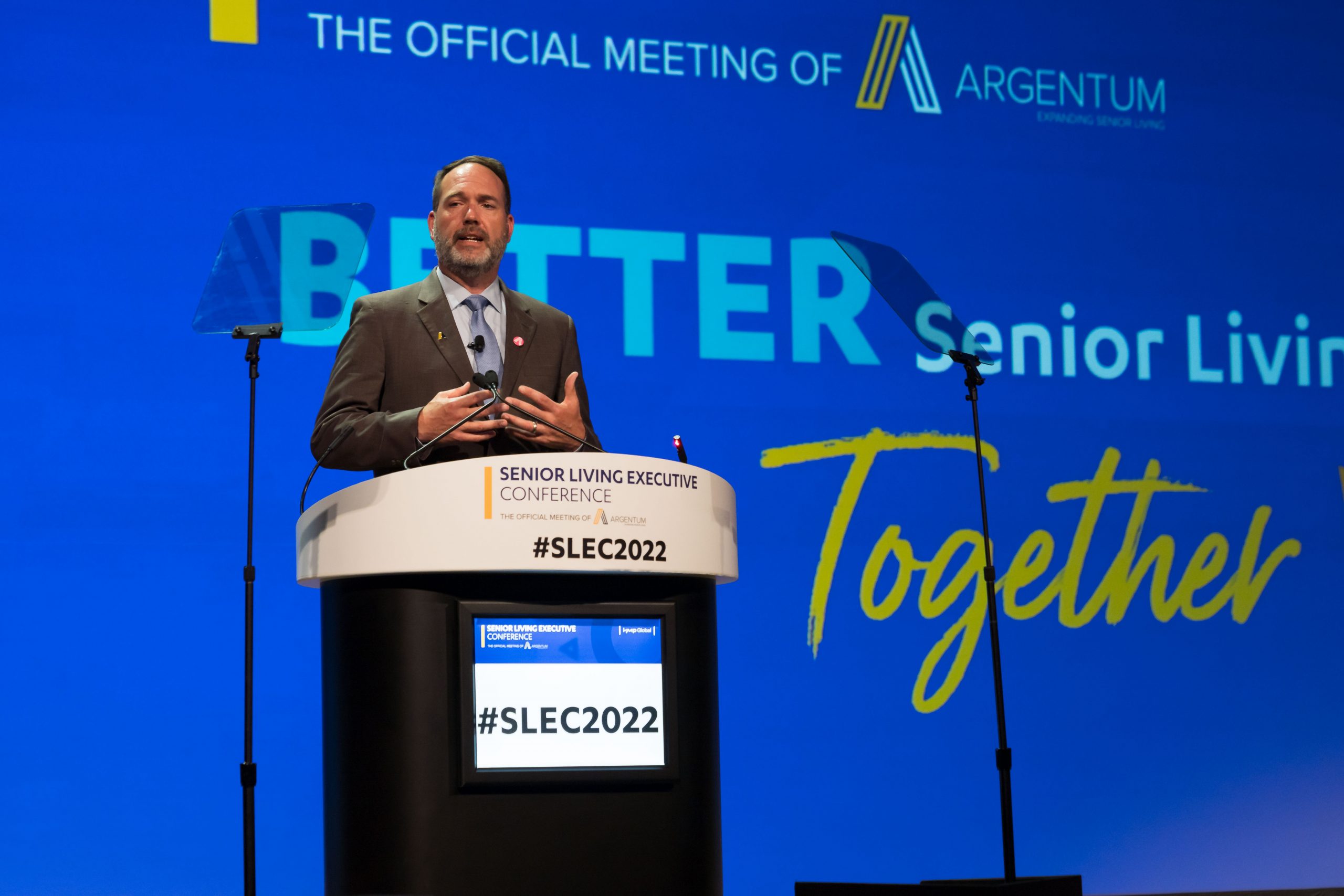 MINNEAPOLIS — People, trust and choice. James Balda, president and chief executive officer of Argentum, believes those three factors will play a crucial role in determining the overall success of the senior living industry going forward.
"We must never forget that we are in the business of helping people, and specifically our job is to help people thrive. We do this by helping connect seniors to relationships and to create a sense of meaning and purpose. This is fundamentally why our communities are so effective. We don't just focus on care, but on seeing the whole person and helping them thrive. This also extends to our team members. We need to think about the whole person."
The remarks from Balda came during his state-of-the-industry address on the opening day of the 2022 Argentum Senior Living Executive Conference & Expo at the Minneapolis Convention Center. The three-day conference, produced by HMP Global, has attracted about 2,000 attendees.
"We live in a culture that is starved of meaning, and our communities provide incredibly meaningful work. Younger generations care more than just about making money. They care about having an impact, and this is something that we can offer. And I believe this is the story that we can tell about our industry," continued Balda.
Creating and maintaining trust is also vitally important, emphasized Balda "Our entire industry depends on trust. Our residents trust us to provide the best possible care. Their families trust us to be transparent and openly communicate. Our team members trust that we will provide them with resources and training needed to be successful and advance their careers. Investors trust that we'll provide quality care while providing a return on their investment. Regulators trust, but ultimately verify, the communities adhere to state and regulatory requirements."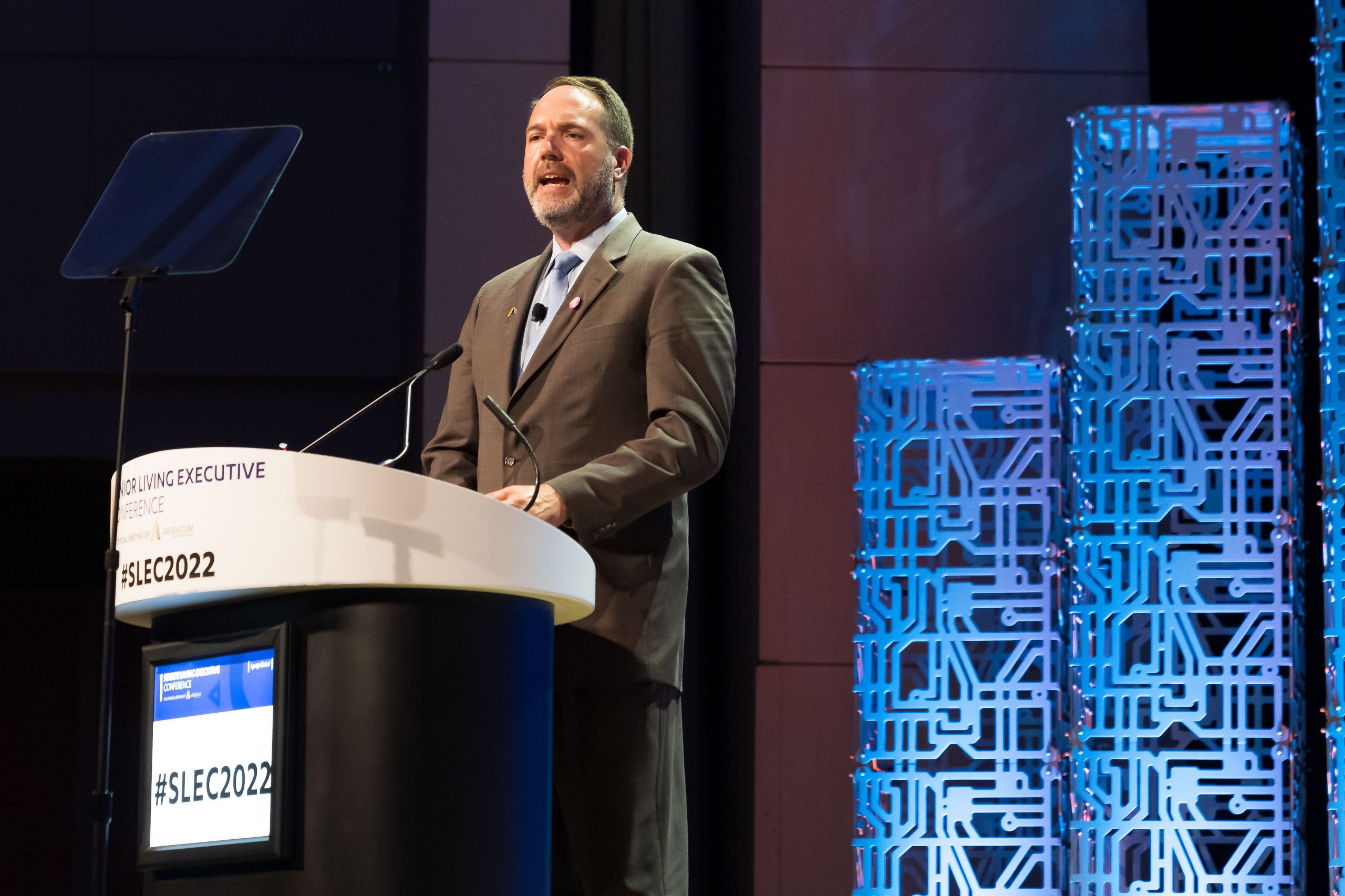 The most powerful way the industry can create trust is through transparency and data. Investors and operators want common financial metrics and baselines to measure operational performance, the veteran executive pointed out.
"But most importantly, residents' family members, healthcare partners and policy makers all need common data on resident outcomes. By having some basic consistent data across our industry, we'll also be better able to establish best practices and guidelines," explained Balda.
The third ingredient Balda is championing is consumer choice. In a consumer-based, service-driven economy, the customer drives demand, noted Balda.
"In most long-term care settings, choice is removed from the equation. At the end of the day, it often comes down to where a bed is open, where the payor approves a stay. Our industry is the only exception — the only option where consumers have a real choice."
Argentum should be doing everything it can to protect and expand consumer choice, emphasized Balda. "This means that we need to adapt to provide more choices and more customizable product options for consumers up and down the acuity scale."
As the seniors housing industry moves from the pandemic to the endemic phase, there is light at the end of the COVID-19 tunnel, according to Balda, which explains in part this sharp focus on the future of the industry. The fact that more than 10,000 people in the U.S. turn age 65 every day and that Americans are living longer also adds a sense of urgency.
"In the coming years, there is an opportunity for us to engage and lead on what will perhaps be the most significant domestic public policy debate in a generation: how to care for America's seniors."
Going Above and Beyond
Following Balda's remarks about the state of the industry, Argentum honored Hero Award Recipients for their extraordinary work over the last year in serving residents and the senior living profession. The winners included:
Jaimie Harel, sales counselor, Brookdale Springs Mesa (Brookdale Senior Living) in Mesa, Arizona
Janie Whipple, receptionist, Academy Point at Mystic (Benchmark Senior Living) in Mystic, Connecticut
Johnell Washington, concierge, Victory Center of Forest Park (Pathway to Living) in Forest Park, Illinois
In addition, the Senior Living Community Leadership Award Recipient went to Anthony Vaughns, executive director, New Perspective Senior Living Waukesha in Waukesha, Wisconsin.
"These recipients define what it takes to be a hero in our communities, working day in and day out to bring excellence to their profession and real dedication to our residents and their work families," said Balda.
Other highlights from the first day of the conference included a two-hour Women in Leadership symposium. Participants included Collette Gray, president and CEO, Integral Senior Living and Solstice Senior Living; Angela Brandt, president, Senior Care & Healthy Aging, Promedica; Sarah Hoit, chief social impact officer, BioVie Inc.; Amber Ju, CEO, Kithward; and Myra Norton, president and CEO, Arena.
Following the roundtable, Cindy Baier, president and CEO, Brookdale, discussed her new book: "Heroes Work Here: An Extraordinary Story of Courage."
Based in Alexandria, Virginia, Argentum is a national association exclusively dedicated to supporting companies operating professionally managed, resident-centered senior living communities and the older adults and families they serve. Since 1990, Argentum has advocated for choice, independence, dignity, and quality of life for all older adults.
— Matt Valley