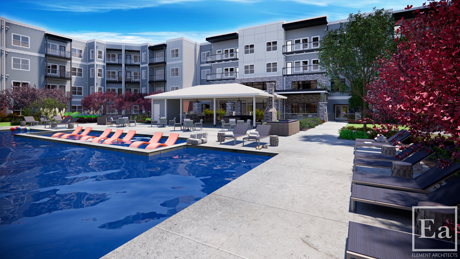 NOBLESVILLE, Ind. — Capitol Seniors Housing has broken ground on The Outlook at Hamilton Town Center, an active adult community in Noblesville, a suburb of Indianapolis.
The 145,000-square-foot, four-story community is reserved for those age 55 and older and will offer 164 units.
The property is adjacent to Hamilton Town Center, an outdoor shopping, dining and entertainment destination. The community will also be within walking distance of a recently announced, 274-acre, master-planned development known as Hyde Park, which will include a mix of retail, restaurants, office space and 162 acres of parks.
"Hamilton County and Noblesville have experienced significant population growth over the past few years and become an affluent suburb in the Indianapolis area," says Michael Hartman, principal, active living, for Capitol Seniors Housing. "Mixed-use developments are in high demand and allow residents to live within walking distance to everything they need, whether it's dining, shopping or entertainment. The Outlook at Hamilton Town Center's location is a great fit for those who want to downsize, socialize with like-minded neighbors, and enjoy various amenities and activities."
Designed by Element Architects with Core Construction serving as general contractor, The Outlook at Hamilton Town Center is scheduled to open in early 2023.