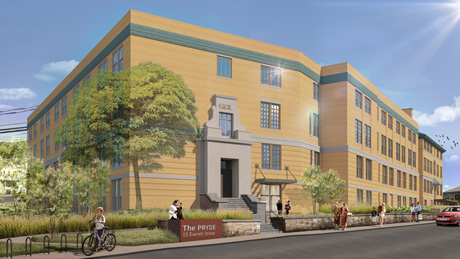 BOSTON — TD Bank has provided $22 million in construction financing to redevelop William Barton Rogers (WBR) Middle School in the Hyde Park neighborhood of Boston into 74 units of mixed-income seniors housing, with a focus on LGBTQ seniors.
The WBR school is a historic and social landmark in Hyde Park, serving and educating the Hyde Park community for over a century. The building will be preserved and adapted for this new project, which will include the protection of the historic exterior facade as well as significant interior architectural elements such as the stage of the auditorium, mosaic tiles, gymnasium and more. The Pryde will offer a mix of studios, one-bedroom and two-bedroom units.
Large spaces in the building will be reserved for general use by the community. The design includes preserving the auditorium, the gym, the cinema room, the front entrance and 10,000 square feet of space to be used by the public and residents. Community organizations can use the space for meals, events, activities, meetings, classes and workshops.
The Pryde project is a partnership between Pennrose and LGBTQ Senior Housing Inc., a local nonprofit that will work with the community to identify LGBTQ residents for The Pryde.