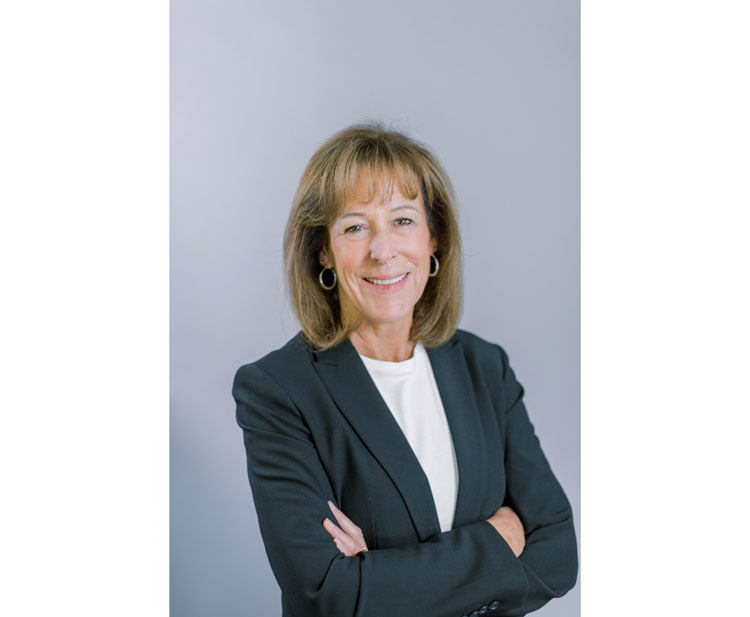 Journey of nonprofit executive leads her all the way from college music major to receptionist to CEO.
By Jeff Shaw
Terri Cunliffe truly got in on the ground floor.
Her first job in seniors housing was as a receptionist in the 1980s after quitting college, where she majored in music. Her administrator saw Cunliffe's potential and encouraged her to return to school and work on a new degree that would be more befitting a career in seniors housing.
The rest, as they say, is history.
Cunliffe came back to the same company that originally hired her, Skokie, Illinois-based Covenant Living Communities and Services. She worked her way up the ranks over the following decades, eventually being promoted to CEO in 2015.
According to the American Seniors Housing Association (ASHA), Covenant ranked as the 37th largest U.S. operator with 5,175 units spread across 16 communities as of June 1, 2020. ASHA also ranked Covenant as the 42nd largest U.S. owner with 5,229 units in 17 communities. 
The company is largely focused on continuing care retirement communities (CCRCs). The properties are concentrated on the West Coast and Midwest, plus one community each in Colorado, Oklahoma, Florida and Connecticut. The portfolio comprises 13 entry-fee CCRCs, two rental communities, a skilled nursing facility and a standalone assisted living community. The company also operates home health agencies in California and Illinois.
Seniors Housing Business spoke with Cunliffe about her circuitous route to the C-Suite, plus the future of the company.
Seniors Housing Business: Given that you have degrees in long-term care and health services administration, is it correct to say working in seniors housing was always your goal?
Terri Cunliffe: No, I took a journey. I started out as a piano major, though I'd note that music and long-term care go great together.
I started out in college, and the long story is it took me 11 years to get my undergraduate degree. I realized I was not pursuing the right career path for my gift. 
I quit school and worked full time. I took a second job in my early 20s as a receptionist in a nursing home. I would bring my guitar in — people would come to the reception area, and we would sing together. I was actually irritated to answer the phone, though that was what I was hired to do.
The nursing home administrator pulled me aside and said, "Get your nursing home administrator's license. This is where you're meant to be."
I went to University of Minnesota, Twin Cities in Minneapolis and wrote my own degree program. I then pursued my master's degree in health services administration.
It was by accident, but it's been a wonderful journey.
SHB: Walk me through how you got back into the industry and your career path through Covenant.
Cunliffe: As part of my undergraduate degree, I needed to complete a 2,000-hour nursing home administrator internship. I did that at a Covenant Living of Golden Valley in Golden Valley, Minnesota. Shortly after that, in 1988, management interviewed me about moving to Florida to open up the new assisted living and skilled nursing expansion at Covenant Living of Florida in Plantation. I moved from Minnesota to Florida in January — very smart.
That's where I pursued my master's program right away. When I moved to Florida I didn't know anyone, so I decided to start graduate school at Nova Southeastern University. I completed that in 1991, and then got my nursing home administrator's license in Florida. In 1992, I became the administrator at Covenant Living of Florida, overseeing skilled nursing and assisted living.
Then, in 1996, I moved into the executive director role. I was the first female executive director in the organization at that point. I stayed there until 2000, then moved into our corporate office in a new position as vice president of health and wellness. There I oversaw all of the skilled nursing,  assisted living and resident services throughout the organization. 
In that role I had the opportunity to develop LifeConnect, which is our whole-person wellness program that we rolled out in 2002. That was very early for the concept of wellness.
I did that until 2010, when I became executive vice president of operations, and eventually chief operating officer. It was the same job, two titles. I oversaw operations for all of our communities in that role.
CEO was the next step after that — that was in 2015.
SHB: What does it mean to you to work for the same company for over 30 years?
Cunliffe: First of all, it's important to know that I never intended to stay this long. What I have really appreciated about the organization is that I was provided opportunities to grow personally and professionally through task forces and expanded responsibilities. 
I found myself raising my hand a lot when things needed to be done. I would throw myself into it because I believed in it. The organization really let me reach beyond what was just directly in my stack of responsibilities. If I hadn't had that opportunity, I'm not the kind of person that could've just done the same thing day after day. 
I loved reaching into new areas. I loved learning and having an impact and making mistakes along the way.
I appreciate the organization's commitment to growing people, to allow them to experience different aspects of the business. That's really what kept me here. 
I didn't intend to be CEO. It wasn't until very late in my career that it even crossed my mind.
Serving all types
SHB: Tell me more about LifeConnect.
Cunliffe: One of the reasons I was so passionate about that was because of my experience in the community. I wanted a vehicle for residents to be integrated into their community in the areas of their interests and goals, rather than doing whatever the first person they met was doing. My fear was I would move in someday, and the person I met first was into arts and crafts. I hate arts and crafts, but that's what I'd end up doing.
I watched so many residents adopt things because of the first person they ever met. I swore I'd never do that.
The idea is to get to know the residents, then plug and play what is most important to them and the people that like what they like. 
The whole concept is to interview the resident at the time they move in, then customize their orientation to their new community, department managers and departments that best met their interests and their goals.
Then they'll self-initiate as long as they're capable. What it allows us to do is, as their situation or their physical condition changes, we can come alongside them and help them to determine how they can still live their interests, goals and preferences when they're not able to figure out how to do so themselves.
I'll give you an example. We had a pastor who would lead bible studies. He had a physical change, moved to skilled nursing and could no longer lead bible studies. Because we knew that was important to him, we put him in a phone support system where he would call people, encourage them, pray with them, read with them. We were able to continue what was most important to him because we knew that about him.
SHB: What is Covenant's growth plan for the future? Do you prefer to develop yourselves or acquire/affiliate?
Cunliffe: It's a combination of both. We have done greenfield developments and we've also done acquisitions and affiliations. We also have a dedicated business development role now focused on potential acquisition and affiliation opportunities.
The second way that we have grown is to look at new business lines in areas where we are the best. This includes our Open Strategy Group, which is for digital marketing and recruiting. We do that well. That's a new business line where we can serve other senior living providers in our areas.
The third way we grow is through economic diversity. We are exploring affordable housing, through tax credits or whatever's available, and also mid-market rental communities. Most of our communities now are entrance-fee based. We would like to be able to serve that middle-market group, and then we really have a passion for affordable housing. Those two will be through greenfield development.
We still need to have a successful business model, but we really believe, as a nonprofit, that it's part of our ministry to look at that economic diversity.
SHB: What makes a Covenant community stand out from other senior living options?
Cunliffe: First of all, it comes from the quality of the relationships and the trust between residents and management. For both the local management and then our corporate office management, what's really unique is anybody can reach me — a resident, a family, a front-line staff member. There are no barriers in our organization to accessing the people you want to talk to. 
That has built an enormous amount of trust throughout the organization. Relationships build trust. Without trust, transparency is a waste of breath.
The second thing that stands out in our communities is some of our in-house capabilities. We have the ability to develop in-house expertise in the area of information technology, third-party billing and communications. We have in-house creative, in-house digital strategies, in-house video. It allows us to respond and communicate in a variety of different mechanisms. 
When you have video capabilities, that allows you to communicate really complex things in a much clearer way. The written word is so hard for clarity with a complex topic. That also builds trust and transparency. 
Because of our video capabilities, we can share what's happening to the whole organization. Residents know what's happening in other communities. There's a national connection even though our footprint is ginormous.
Built with a mission
SHB: What do you specifically like about running a nonprofit seniors housing company?
Cunliffe: My favorite thing is driving strong financial performance because I get to reinvest it in people, programs and physical plant improvements. That's what I love. I won't take advantage of our residents — we're really protective about their rent increases and running an efficient organization — but I love that our financial performance goes back into our people, our programs and our physical plant.
I really love helping people grow and experience what they never thought possible. That's residents and leaders, giving them the opportunities that I had. I never thought CEO was possible — not me, not with the 11 years it took me to get my undergraduate degree. Are you kidding? I love helping people see that potential, supporting them and at the end having them say, "I never thought I could do that." I knew they could.
SHB: Though Covenant has several types of communities, the bulk of the portfolio is made up of CCRCs. What do you like about that style of community?
Cunliffe: I like the long-term relationship. It's not unusual for a resident to live in our community 10 years or more, often way longer. We become family. Their family becomes our family. I really love that we get to serve people from the time they're truly independent to the very end of their life. I don't have to say goodbye until the end.
SHB: How did your entrance-fee CCRCs recover from the Great Recession?
Cunliffe: Our communities all recovered very well from the Great Recession and we've been blessed with above-national-average occupancy rates. 
Following the Great Recession we made intentional investments in building out internal resources for sales management, marketing, creative design and digital marketing. This investment was invaluable in our recovery as it took extreme focus, strategic agility and financial investment in marketing resources. We saw an enterprise-wide increase in occupancy by 10 percent after these investments were made.
A national reach
SHB: Covenant has quite a geographic spread, including West Coast, East Coast, Midwest and Mountain states. How do you keep your hands around operations when the properties are so spread out geographically?
Cunliffe: We manage it through structure and communications. We use regional directors because it minimizes the scope to just a few communities so they can become intimately knowledgeable of each of those properties. We have regional teams for sales, operations, philanthropy, facilities management, IT and healthcare. We do have national positions, but the intimate relationship is more regional.
We use our on-site visits to build relationships with our staff and residents. When you have that relationship, it allows that remote relationship to be more effective. 
We also have leadership gatherings. Summit happens every 15 to 18 months, outside of COVID. We bring 300 leaders from all our communities together here in Chicago for four days for education, networking, leadership development and a lot of fun. It's an opportunity to get to know each other. That is mostly department managers and executive staff.
We also have Base Camp, which is for our middle managers. They come together annually to develop that group to be strong leaders. It's really focused on leadership development because they are the ones that touch the frontline staff the most.
Another one of my philosophies is that, as leaders, we need to make the employees our main event. If we do, our employees will make the residents their main event.
Then we do a lot of electronic gatherings monthly by discipline for brainstorming and networking. We use a lot of video to communicate stories to our staff and our residents around the country. We use a lot of video conferencing. 
I would say we really focus on trying to maintain that connection for our leaders so they never forget they're part of something bigger than the day-to-day community. People love to belong to something bigger.
We left Summit last February and went right into COVID. It was so powerful as an organization to have 300 leaders that have to work together that had just met each other and seen each other. It makes an organization more effective.
SHB: What affect has COVID-19 had on Covenant over the last year?
Cunliffe: Like others, we've had our challenges. Occupancy, especially in skilled nursing and assisted living, is probably our biggest challenge. While our healthcare occupancy is down, we remain well above the national average.  For independent living, our occupancy rates have only experienced about a 1.5 percent drop and we are also well above the national average.
The visitation limitations at this point are our biggest barrier. People don't want to bring their loved ones to assisted living or skilled nursing and disappear into a big black hole. Occupancy will improve, but it will be driven by how long visitation limitations are in place.
We learned a lot about infection control — what we did well, what we didn't. We thought we had a better handle on it than we did. Infection control is for more than just nursing staff — it's facilities and housekeeping and dining, pretty much every aspect. That's a positive outcome. We're better than we were.
As we moved forward from the middle of the crisis from a staffing perspective, we changed our recruiting practices. We were able to hire over 450 people in eight weeks by using some centralized recruiting practices. Our recruiting will improve because of COVID.
We're faster in decision making and more adaptable to change. We've been forced to do things differently very quickly. We learned we could do something with 80 percent certainty instead of 100 percent and tweak it along the way.
We have learned that our residents will benefit from more robust virtual programming in addition to the in-person programming we always had.
There was a resident who participated in a virtual painting class. They would've never done that in person because they didn't want to be intimidated by the "real" painters. As a result, they found a brand-new skill in themselves. I do think that combination of some virtual programming with in-person programming will give our residents a more robust opportunity to explore new things.
SHB: What's something people in the industry would be surprised to learn about you?
Cunliffe: My husband (David Cunliffe) is a golf professional, so maybe the most surprising thing would be that we've played somewhere between 20 and 30 of the top 100 golf courses in the world.
SHB: What was your favorite?
Cunliffe: We love links-style golf courses (a coastal type of golf course with sand dunes, originating in Scotland). My favorite I would say so far is Kingsbarns in Scotland. In the U.S., my favorite is Bandon Dunes near Bend, Oregon. That one mimics the true links style in Scotland and Ireland more than any other place. It's really beautiful.