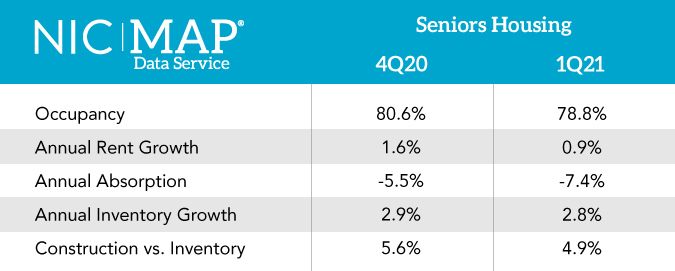 ANNAPOLIS, Md. — Private-pay seniors housing occupancy in the United States reached a record low of 78.8 percent in the first quarter of 2021, falling 180 basis points from the last quarter of 2020 and 870 basis points from a year ago. This is the sixth consecutive quarter occupancy has declined, and the fourth since the COVID-19 pandemic began.
That's according to new data from the National Investment Center for Seniors Housing & Care (NIC), an Annapolis-based nonprofit firm that tracks industry data gathered from 31 primary metropolitan markets. Private-pay seniors housing comprises independent living, assisted living and memory care.
"Seniors housing residents have largely been vaccinated against COVID-19, which is dramatically reducing case counts and mortality rates, but this has not yet translated into a seniors housing occupancy recovery," says Chuck Harry, NIC's chief operating officer. "As move-in moratoriums continue to be lifted and operators get more inquiries from prospective residents, leads, and property tours, occupancy may increase in the months ahead."
A closer look at the data for the first quarter shows record-low occupancy levels for both assisted living and independent living properties. Assisted living occupancy fell 200 basis points to 75.5 percent in the first quarter, and independent living occupancy dropped 160 basis points to 81.8 percent. Since March 2020, assisted and independent living occupancy fell by 950 and 790 basis points, respectively.
"It's not surprising that a global pandemic and a specific virus that causes severe illness in older people is keeping seniors housing occupancy at historic lows," says Beth Burnham Mace, NIC's chief economist. "It also is not surprising that occupancy improvement has not yet become evident since there is a natural lag between the time someone inquires about moving into seniors housing and the time that person actually moves into a property. Data from the next two quarters will signal whether consumers have moved beyond the pandemic and are again considering seniors housing properties."
Occupancy rates across metropolitan markets also varied greatly. San Francisco (84.2 percent), San Jose (83.4 percent) and Seattle (82.9 percent) had the highest occupancy rates of the 31 metropolitan markets that encompass NIC MAP's Primary Markets, while Houston (72.9 percent), Atlanta (73.5 percent) and Cleveland (74.2 percent) recorded the lowest.
Click here to view the full report.