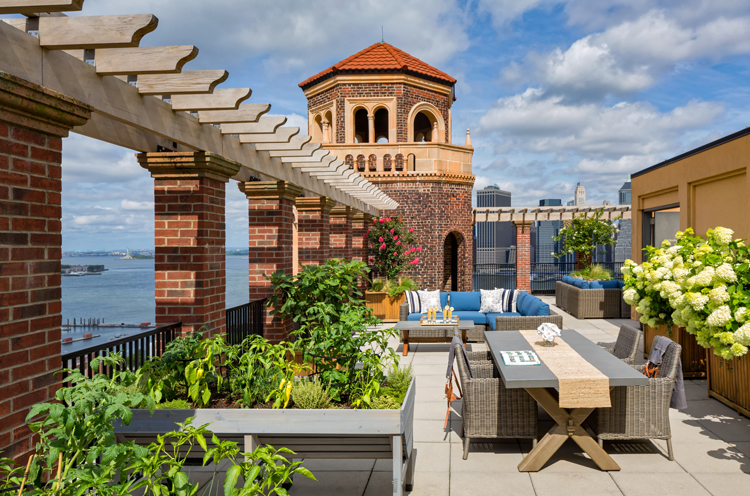 Watermark rises from an auspicious history to become a Top 10 operator.
By Jeff Shaw
When David Freshwater founded The Fountains in 1985, the widespread reinvention of assisted living was still several years away. His developments in these early days helped to set the template of what we now know as private-pay seniors housing, starting with The Fountains at La Cholla in Tucson, Arizona, in 1987.
David Barnes joined Freshwater at The Fountains in 1989, developing the systems, policies and training systems that would allow the company to grow.
And grow it did. By the time Sunrise Senior Living acquired the company in 2005 for $500 million, The Fountains managed 4,829 units and annual revenues topped $200 million.
"David Freshwater developed The Fountains at La Cholla as a revolution and transformation over the outdated, institutional 'rest home' model, which was prevalent at the time," says Barnes. 
Selling the company didn't stop Freshwater and Barnes from innovating. In 2005, along with an investment partner, they purchased five seniors housing communities in the Northeast. The following year they purchased two continuing care retirement communities (CCRCs) — one in Connecticut, one in Philadelphia — and launched their new brand: Watermark Retirement Communities.
The new company even became the operator of many of its former Fountains properties in 2010, including the original The Fountains at La Cholla community.
Around the time that Watermark launched, Freshwater, then an advisory board member at the University of Arizona's business school, met a student who was working on a project regarding fitness and wellness. Freshwater hired the student — Bryan Schachter — seven months before graduation, with plans to have him establish a fitness and wellness program for Watermark.
Those three are part of Watermark's C-Suite, with Freshwater serving as chairman, Barnes as president and CEO, and Schachter as chief investment officer, after working his way through the ranks to that position in March 2020.
The company has grown every year since its founding, becoming the ninth-largest operator in the country this year, according to the American Seniors Housing Association's rankings. As of June 1, Watermark operated 65 communities totaling nearly 12,000 units — 5,500 in independent living, 3,800 in assisted living, 1,600 in memory care and 800 in skilled nursing.
"We're across 22 states," says Schachter. "We have our main office in Tucson, but we have resources around the country, be it human resources, programming, services, capital expenditures, legal risk — everything an operator of our size needs. We have regional folks dedicated to the regions of our portfolio."
The development pipeline is robust as well, with eight projects currently under construction scheduled to add 1,000 independent living, 500 assisted living and 200 memory care units to the portfolio. The company is also making its first foray into the active adult space, with 64 units included as part of a larger community that will also feature independent living, assisted living and memory care.
Skin in the game
Schachter is quick to note that, despite being one of the largest operators in the country, Watermark's management sees the company "as an investment vehicle for real estate, as well as an operator." For that reason, Watermark has a minority ownership stake in 60 of its 75 properties, ranging from 2 percent to 15 percent.
"We want to be part of the equity for any given deal," says Schachter. "We don't do third-party management contracts, which makes us different from many operators in the space."
Investment partners include Kayne Anderson Capital Advisors, PGIM, Blackstone and Welltower, among quite a few others. In fact, Welltower just named Watermark as its operator for a portfolio of 14 communities for which the REIT paid $580 million.
Watermark properties tend to not have much in common from a physical-plant perspective, as most of the portfolio was built through value-add acquisitions — "often large-scale, distressed CCRCs," notes Schachter. "Every product has been very unique and market specific."
However, in the last five years the company has started dipping its toe into ground-up development and acquisitions that require a full redevelopment. 
Most famously, in recent years Watermark has transformed a former UCLA dormitory in Los Angeles and a large, historic former hotel in Brooklyn into upscale seniors housing properties.
Development partners to date have included Hines, ZOM Living, Tishman Speyer, Silverstone Communities, Oppidan and Ryan Cos. "We bring the seniors housing expertise and they bring the day-to-day development," says Schachter. "That has been a great setup for us and allows us to leverage our platform so we can have eight projects under development at the same time. We're able to focus on what we do best — the operations side of things — while co-investing alongside of them."
Amenities are also specific to the area where a given property is located. Watermark conducts extensive market studies, as well as focus groups with area residents, to determine what would be an appropriate fit. 
In Tucson, for example, Watermark just installed its first golf simulator. The property is located among multiple country clubs, and prospective residents noted golf as a common interest.
"That was driven by feedback from prospects," says Schachter. "You'll see themes across our communities — for example, multiple dining venues including a wood-fired oven venue, a formal dining room and a grab-and-go venue — but each community caters to the market it serves. A lot is driven by feedback from prospects and what are going to be the most important amenities for people considering moving in."
Other unique offerings tailored to each specific market include equine therapy, a healing garden and a concierge medical practice. 
"The concierge medical practice was driven by a local doctor that a lot of residents already utilized, so we set aside space for him to practice on site. Every resident has access to that doctor, and it's unusual and a big driver of demand."
Creative approaches
One amenity that's universal across all Watermark Communities is Watermark University — the very project that Schachter was brought on board to spearhead in 2006.
Here's the concept: Rather than bring in the stereotypical outside entertainment like bingo and musical performances, Watermark can leverage the expertise of its residents and staff.
"The idea behind Watermark University is to get residents, associates and families engaged," says Schachter. "We're asking people to really participate in community life by teaching programs that are based on passions throughout their lives. For example, it might be a housekeeper that has a background in conversational French teaching residents and associates about their experience."
The program won the International Council on Active Aging's Innovators Achievement Award in 2017.
"The G.I. generation just wished to be well taken care of, entertained and to not be a burden to their families," notes Barnes. "Today, Watermark is developing for the baby boomers and silver tsunami who want engagement, independence and choice, as well as to live in an inspiring environment of well-being through integrative wellness, design and close-knit community."
Watermark University isn't the only way the company is trying to appeal to a wider demographic with its programming and amenities. In its memory care areas, Watermark introduced the Gourmet Bites Cuisine program, which serves fresh meals in handheld bites for residents who may have trouble eating with knives and forks. "We're trying to bring dignity to our residents in the way they're able to eat," says Schachter.
Recognizing the diversity of the new generation, Watermark is pursuing sensitivity training and certification for all its communities nationally from SAGE, an advocacy and services organization for LGBT+ Seniors, for its companywide inclusiveness commitment. This could be key as those involved in the early days of the gay rights movement of the late 1960s are baby boomers approaching the target age group for seniors housing.
For dining in general, Watermark is moving toward a "country club spend-down card" for food and special services. The idea is to allow residents to spend their money how they choose and allow communities to offer high-level dining, rather than constantly trying to cut food costs to the minimum possible to still have a "good enough" dining program.
"Residents might have $500 on a card, and they choose how to use that, whether on food or alcohol or personal training," says Schachter. "They may use it quickly or spread it out, and if they want to go beyond that level, they can do on an a-la-carte basis with a 20 percent discount. 
"It puts the freedom in the hands of the residents to choose while elevating our dining. It's a much better alignment with our residents and the right decision moving forward for seniors housing."
Many of these programs are being rolled out in Watermark's new Elan- and Elite-branded communities. 
With the most recent two projects comprising the previously mentioned redevelopment projects in Los Angeles and Brooklyn, Watermark is seeking to establish high-end sub-brands like many companies have done in the hotel business.
"Seniors housing historically hasn't been a brand-recognition business," says Schachter. "But with the baby boomers hitting our market, we felt there was an opportunity to do some things the hotel industry has done really well."
A typical Elan community totals 200 apartments, split as 60 percent independent living, 30 percent assisted living and 10 percent memory care, and is focused on hospitality and wellness. Elite communities have a similar focus, but they have a higher percentage of assisted living and memory care. 
"With both Elan and Elite, they're often midrise projects in infill locations that can capitalize on the surrounding area — retail, culture, restaurants and entertainment," says Schachter. "The baby boomers will desire to be in the heart of things and not out in the suburbs like much of the seniors housing of old."
Facing today's challenges
Watermark had to face the impact of the COVID-19 pandemic, just like everyone else, and the company is now looking to the future. 
The expansive Brooklyn development opened at the peak of the pandemic, along with six other projects during the last year. Schachter says that lease-up has been understandably slower at these new communities than originally expected, but that "there's positive growth month over month."
"While it's going to take more time than we would have liked, we're very excited and we're going to see these things through to ultimate success."
One of the keys to recovery has been extremely high vaccination rates: 95 percent of residents, and over 90 percent of employees due to a vaccination mandate.
"Our pitch to residents and families is very different now than it was a year ago," says Schachter. "Where else can you go out in the world where 90 percent of the people around you are vaccinated? There isn't a safer place for someone over 75 than in our environment."
Watermark's geographic spread complicates the other big issue facing the industry: labor.
"We're in so many areas, and we have to face all those labor markets," says Schachter. "There's no two ways about it: It's a challenge."
The company has started using Dayforce Wallet, a program that allows workers to be paid immediately after a shift. They're currently considering on-call daycare centers for workers with young children.
"There's no one silver bullet, but we're trying to create the best environment," says Schachter. "We've always been known to have a great culture and great tenure for associates. We want folks to desire to be with us, and we give them the tools to be successful and retain the best folks."
At the company's corporate level, the average tenure is 7.5 years, and nearly one-third of front-line workers have been with the company for more than 10 years.
Watermark recently made a significant change in compensation for the sales team. Workers are no longer paid on a commission structure. This shifts the sales motive from making the most money to getting the prospective resident into a unit that best fits his or her needs.
Schachter recalls shopping for electronics in the 1990s. His brother worked for no commission at Best Buy, but his brother's roommate worked at commission-based Circuit City. "It felt like vultures closing in at Circuit City. At Best Buy, they were asking questions and finding out what you need."
"We want our team to engage with prospects, understand the 'why' behind their inquiry and build that relationship so they make the best decision," says Schachter. "Obviously, folks are still reviewed based on performance, but their compensation is not. That was a major cultural shift. We were probably one of the first in the industry to go that direction." n