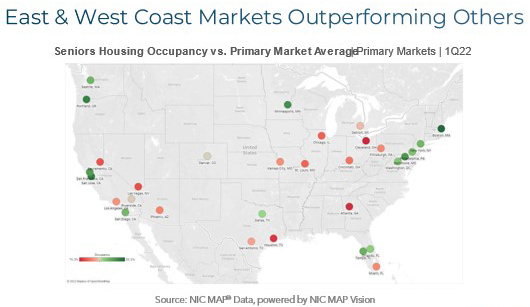 ANNAPOLIS, Md. — While private-pay seniors housing occupancy saw a 20-basis-point increase in the first quarter of the year, the industry is still a long way from full COVID-19 recovery. In fact, occupancy is still 670 basis points below its pre-pandemic levels.
That's according to a blog post from Beth Mace, chief economist at the National Investment Center for Seniors Housing & Care (NIC), an Annapolis-based nonprofit firm that tracks industry data gathered from 31 primary metropolitan markets through its NIC MAP Vision product. Private-pay seniors housing comprises independent living, assisted living and memory care.
"Since the recovery began in second quarter of 2021, 26,683 of the 45,499 units placed back on the market have been re-occupied, or 59 percent of those units," writes Mace.
A slower construction pipeline is helping with the occupancy recovery. New construction as a share of inventory was at 5.3 percent in the first quarter, well below the peak of 7.8 percent in late 2017 and 7.5 percent in first-quarter 2020.
Mace goes on to note that the coastal markets are outperforming the rest of the country, and that private buyers have dominated acquisitions activities as the pandemic fades.
"Of the $1.2 billion of closed deals in the first quarter of 2022, private buyers represented $877 million, or 76 percent of the closed volume," writes Mace. "For context, private buyers represented 43 percent of closed volume in 2021 for the entire year, with the public buyers coming next, representing 35 percent of closed volume in 2021."
To read the entire blog post, click here.