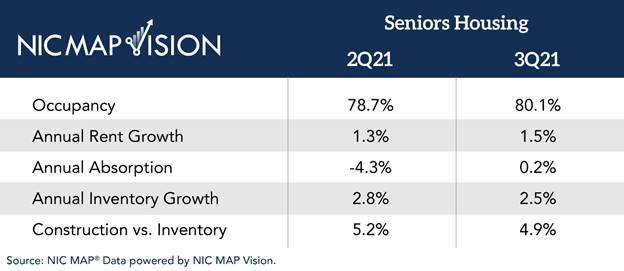 ANNAPOLIS, Md. — Private-pay seniors housing occupancy in the United States increased 140 basis points in the third quarter of 2021 from 78.7 percent to 80.1 percent. The second-quarter number was the record low, a result of the effects of the COVID-19 pandemic.
That's according to new data from the National Investment Center for Seniors Housing & Care (NIC), an Annapolis-based nonprofit firm that tracks industry data gathered from 31 primary metropolitan markets through its NIC MAP Vision product. Private-pay seniors housing comprises independent living, assisted living and memory care.
A significant rebound in demand and modest increase in supply contributed to the occupancy rate increase. Demand increased by 12,318 units in primary markets, the strongest unit increase since NIC MAP Vision began reporting the data in 2005. At the same time, inventory increased by 3,441 units — the smallest unit count increase since the first quarter of 2019 — while the number of units under construction were the fewest since 2015.
"Notably, seniors housing construction starts amounted to only 1.9 percent of the existing inventory in the third quarter on a rolling four-quarter basis, one of the lowest rates since 2011," says Beth Burnham Mace, NIC's chief economist. "Industry leaders should keep an eye on this trend because it suggests that there may be a window of limited inventory growth and potential promising investment opportunities next year."
All types of seniors housing are still well below pre-pandemic occupancy levels. Independent living hit 83.2 percent occupancy, while its pre-pandemic level was 89.7 percent. Assisted living hit 76.9 percent occupancy, while its pre-pandemic level was 85 percent.
"The pop in occupancy, slowdown in inventory growth and jump in demand are all encouraging for the trajectory of the occupancy recovery," says Chuck Harry, NIC's chief operating officer. "But it's important to acknowledge that the senior housing occupancy rate is still well below its pre-pandemic peak, so we need to continue to monitor future data before declaring recovery from the pandemic."
For the full report, click here.