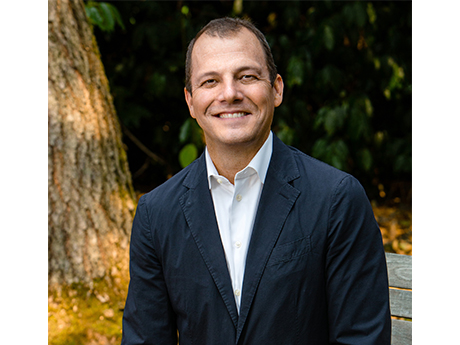 Regional operator keeps it in the family. 
By Jeff Shaw
It's rare to encounter a company whose name is fitting on several levels, but that's exactly the case with Generations LLC, an Oregon-based owner and operator. For starters, the name reflects the elder generation that occupies its communities. Secondly, the company also believes in implementing multigenerational experiences for its residents, such as onsite daycare and amenity spaces open to the public.
Thirdly, it is also a family-owned company, featuring multiple generations of founder Wendell White's family. That family tree includes Chip Gabriel, White's son-in-law, who joined White's company in 1989. 
As part of a college project while dating White's daughter, Gabriel wrote a marketing plan for White's assisted living community that was nearing completion. Impressed, White brought Gabriel on as an employee.
Gabriel later rose to the executive chairman position, serving just below White. Gabriel's wife and White's daughter, Melody Gabriel, serves as CEO. Several of Chip and Melody's children also now work for the company.
In the 32 years since Gabriel was hired, Generations has grown to operate 11 communities totaling 2,288 units in five Western states. The company offers independent living, assisted living, memory care and skilled nursing services, usually providing multiple levels of care at each campus.
Seniors Housing Business spoke with Gabriel on what it's like to run a truly family-owned company.
Seniors Housing Business: Walk me through your career leading up to joining Generations in 1989, and your ascension through the ranks there.
Chip Gabriel: I graduated from college in 1986 and worked in the Bay Area as an analyst for a real estate company, mostly working in apartments. I was enthralled by how they could take a piece of dirt and make real value out of that. 
I went back to college to get my MBA and was dating my now-wife. Her father, Wendell White, had built a congregate care facility and was adding an assisted living facility in 1988. This was around the same time that Keren Brown Wilson was building hers. (Brown is often credited with pioneering the modern assisted living model when she built Park Place in Tigard, Oregon, in 1983.)
I created the marketing plan for the community as a class project. When I graduated, Wendell and his business partner Gary Clark hired me. Gary owned three nursing homes and the lessee had gone bankrupt, so I got to oversee bringing in a new operator for two of them, while we operated the third ourselves. We sold the license to Providence Medical Center, then built an assisted living facility for Gary's family.
In 1994, my wife and I, along with my brother and sister-in-law, bought out Gary's interest in those properties, and that's when Generations was formed. It's been a family business since then.
We've developed 35 properties over those years. I've created the business plans and the debt structure. I've been lucky to do that. About three years ago we changed things a bit — my wife and I bought out my brother and sister from the management side of the company.
SHB: So, do you both own and operate the communities in your portfolio?
Gabriel: The ownership structure is a series of standalone limited liability companies that form as a joint venture. Today we have 11 communities, four of which we own. The communities total 2,288 units, and we own 1,228 units. So, for the remaining 1,060 units, we serve as a third-party manager. 
SHB: Tell us some more about the family aspect of the company.
Gabriel: It really comes down to Wendell White, our chairman. In 1943, when he was 5 years old, he moved into a house that had five seniors living in it, and his mother and grandfather cared for people.
Wendell's an amazing mentor, friend and father-in-law. By living in that community —  it became an 80-bed nursing home eventually — he grew up in that environment. Not having a father, the residents became his family. 
For the 31 years I've been working here, we treat our employees as family. In particular, we let our frontline workers know they're the most valuable people we have. We get to know them, hug them and know what's going on with their families. That's our reputation.
They really are more important than anybody in our leadership.
An eye on the future
SHB: Does the company have a specialty within seniors housing?
Gabriel: What we've evolved to is looking at what people will want in the future. It is one of our strengths. We built one of the first assisted living facilities in 1988. Prior to that, Wendell bought a skilled nursing facility out of bankruptcy. He took that facility to a place that nobody wanted to go — he made it into a successful dementia care facility. 
We try to provide what people are going to want going forward. We like having a continuum of care. All but one of our campuses provide that continuum.
A middle-market product is what we try to serve. We have our own construction company and in-house architect. We use that to keep the cost of our building down to serve the middle market.
As an example, in Portland, our rents start at $2,800 per month for a studio, and that includes utilities (including cable and internet), activities, transportation, health club access and a $300 monthly credit toward our restaurants.
SHB: That's certainly been a hot topic lately. How do you serve that middle-income demographic?
Gabriel: We try to control our cost of construction to make very efficient communities. We believe in larger campuses. The ones we own are all over 200 units in size. We can create more lifestyle amenities at that project size than in a 100-unit community. We build to scale.
We try to be strategic in how we construct the building, with the intent of long-term ownership. This part of the strategy is really more about design — being sure all units stack, bathrooms and kitchens are the same — as repetition creates cheaper costs. Also, we understand details like the width of carpet rolls to minimize waste.
SHB: Why make the middle-income market your target?
Gabriel: For us, the biggest part of the marketplace is the middle class. Bill Colson did a great job serving that market for independent living. [The late Colson founded independent living giant Holiday Retirement in 1971.] 
We tried to do it the same way, but with a continuum-of-care model. It's just the size of the marketplace. That's still the challenge today — serving the middle market with a product that they can afford to live in.
Bringing together generations
SHB: What is your growth strategy (for example, acquisitions versus development), and how full is your current pipeline of new communities?
Gabriel: We have one rule: We don't want to jeopardize our existing properties. As you add new communities, it's a strain on your staff. We want to make sure we're ready to do that. 
For third-party management, we currently run one property for CNL Healthcare Properties, which has been a great ownership team to work with. In the last year and a half we've started to work with Longview — we operate three of its communities. Longview is also a great owner to work with.
We need to be good stewards. We need to generate a good financial return while also serving our residents.
That mentality has continued to grow our infrastructure in our home office — which we call our support office — so we can be an institutional-class operator. We've gone from a well-run mom-and-pop operator to an institutional operator. We understand what institutional investors require. We've been able to step up and do that in an efficient manner.
Meanwhile, we continue to develop communities. We have building permits for a 300-unit campus in California that we've put on hold because of construction costs. We have $4 million invested in that project, but it doesn't make sense to take on a large loan right now.
We also are developing a 367-unit independent living, assisted living and memory care community in Sacramento. We're partnering with a K-12 private school in order to offer intergenerational programs. The auditorium will serve both the school and the seniors. We'll have fitness centers, art centers and other aspects available to the overall community.
We're going through the entitlement process for 305 market-rate units and then another 147 units of affordable seniors housing in Burlingame, California. We're looking at how we can connect the development to the wider community.
SHB: Intergenerational communities are also a hot topic right now. What appeals to you about that?
Gabriel: I've always enjoyed conducting focus groups. I visit the communities very regularly. We always have great amenities, but consistently the No. 1 complaint the residents have is "all the old people here." If they tell you over and over again, you've got to listen.
In San Diego, integrated into our Paradise Village community, we have a retail plaza, a credit union with its offices there, a 200-seat performing arts center and a pool — all those things are open to the public. That's where our residents' restaurants can be found. Local musicians use the theater. Our residents feel like they're part of the community, not put away in an old folks' home. They don't want to get put away. I certainly don't. They want to be around youth.
Also in Paradise Village, in the assisted living facility, we have a 25-child daycare open to both employees and the public. Before COVID, residents would see little kids come in during the morning. On Valentine's Day, the kids were making valentines with our residents. I look forward to getting back to those types of activities.
The key question is: How can we bring the outside in and make our residents feel like a part of the community?
We have health clubs at all our larger campuses, and we allow memberships from outside the seniors housing community. Our residents like having young people to work out with, talk with, interact with. It's not just a bunch of old people. We all want to be part of the community and engaged.
SHB: We hear frequently from owners that the regional operator structure is one they prefer. Have you found this to be true, with your properties concentrated entirely out West?
Gabriel: We consciously chose to be a regional operator. We have a lot of opportunities come to us, but we'll only consider them if they're located from Colorado westward.
I have to be able to fly there in less than two hours. We need our higher-ups in the communities and still have a personal life for themselves. We are a hands-on business. We need to be able to communicate with our communities with similar business hours, and physically be in the communities to support them.
Our goal is to stay a regional operator. Our mantra is, "We don't want to be the biggest, we want to be the best." When we have opportunities, we have to make sure those opportunities don't dilute what we're doing.
Labor of love
SHB: What makes a Generations property unique or different?
Gabriel: For us, from a company culture standpoint, we really believe and emphasize that the most important people in our business are on the front line. Our entire job is to support them. That's why we call our home office the support office. Our job is to support the executive directors, who in turn support the frontline workers.
Frontline workers may not make much more than minimum wage; they're in entry-level positions, maybe English is their second language. We need to make them understand how important they are so they can look our residents in the eye with love and care for them. Everyone in the organization has to have that belief in our culture.
I'm the least important person in our company when it comes to caring for people.
SHB: Generations talks about how employees are family (both literally and figuratively, really). How does that play out on the front lines?
Gabriel: You have to treat everyone with respect, as a human being. That starts from everyone in our support office and when they're in the community believing that. When people don't support that culture, you're not welcome in our communities anymore.
That's our No. 1 problem today — labor. That makes it hard to fire somebody, but you have to do that sometimes to support your culture. 
Our leadership has been working the floor over the last couple months. One of my sons works in the business as a memory care director. He's going in at 4 a.m. because shifts aren't filled. You have to lead by example.
SHB: Generations has an in-house architect, which isn't common in seniors housing. What advantages do you gain from having a position like that?
Gabriel: We want to keep learning to do better. Aaron Walker is our in-house architect. Our bigger communities have a resident council. We ask them what they like and don't like about their communities. We learn what's working and not working.
As we're building new developments, what's the most efficient apartment we can build? 
We want to constantly learn and innovate. It's worth the resources to do that.
A lot of properties are getting older and we're doing rehabilitation. The ability to have our architect walk the floor again and again to learn — it's invaluable.
SHB: What's something people in the industry would be surprised to learn about you?
Gabriel: I'm a huge Chicago Cubs fan. Even though I live in Portland, I had season tickets before the pandemic. Wrigley Field is my happiest spot in the world — the left field bleachers specifically.
I went to all three World Series games in Chicago, along with all the games in the National League Championship Series.
Growing up, Ernie Banks was my favorite player even though it was the end of his career. I still remember him hitting his 500th home run. Ryne Sandberg is up there as well, and now I love watching Javy Báez.
A few years ago I turned 50, and my gift to myself was I went to 50 Cubs games that summer. That's not easy to do when you live in Portland and try to run a business. I had family and friends meet me at almost every game. It was Theo Epstein's first year as general manager, and we were terrible. A lot of Budweiser and great hot dogs got me through it.