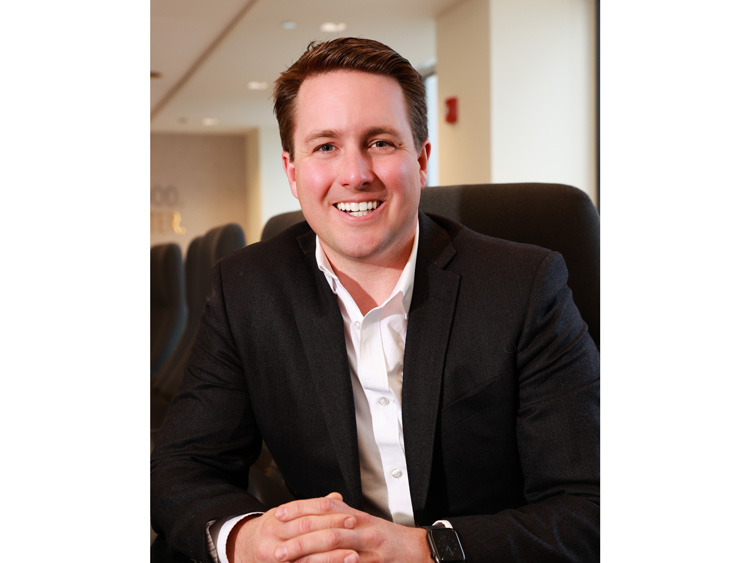 As he steps into the role held by industry pioneer Jerry Finis, the former REIT executive pushes back against industry headwinds with a new approach to company structure and data.
By Jeff Shaw
When Jerry Finis, founder and CEO of Chicago-based owner-operator Pathway to Living, began to consider retirement last year, he knew there would need to be a succession plan. Finis founded the company in the 1990s as the assisted living sector began to evolve into a well-defined asset class. Finis was the only chief executive the company ever knew.
What's more, at that time Pathway had just taken on a third-party management contract with REIT giant Welltower to execute a turnaround project on 22 communities totaling 1,105 units in Illinois and Ohio, increasing the company's unit count by 40 percent.
The company's portfolio now features 48 communities in Illinois, Wisconsin, Minnesota, Michigan, Ohio and Florida totaling 617 senior apartments, 156 independent living units, 2,635 assisted living units and 323 memory care units.
In August 2021, the company hired Justin Dickinson, a veteran of several commercial real estate sectors who got his start at the aforementioned Welltower, to fill Finis' substantial shoes.
Not only is Dickinson a new face, his eyes are also pointed toward the future. Almost immediately, he began to implement plans to adjust the company structure to better encourage growth and accountability. Simultaneously, Dickinson is harnessing and standardizing portfolio-wide data to better understand and fine-tune the company.
Seniors Housing Business spoke with Dickinson about positioning the company for long-term success, and what it's like to step into the lead role at a major company.
Seniors Housing Business: Tell us about your career path leading up to joining Pathway and your elevation to the lead spot. (As a side question, since you were just hired in August 2021, was the hiring always planned as a transition to the top spot?)
Dickinson: I started out of college working for Welltower, formerly known as Health Care REIT, in 2009. I spent two years in Toledo and worked on the medical office and seniors housing portfolios, doing acquisitions and development. 
While I was there, Welltower purchased a medical office developer known as Frauenshuh Healthcare Real Estate Solutions. Welltower was looking to facilitate the merger, so they sent me up there to bring the two companies together. While I was Welltower, I undertook a lot of medical office developments and acquisitions.
I spent four years with Welltower in Toledo, then I moved back to Chicago. I worked for a private equity generalist firm, Janko Group. I was leading the firm's operational investment group — hotels and senior living. Janko Group had a management company on the hotel side, so I was sourcing and capitalizing deals for them.
We entered into a joint-venture partnership with CA Ventures for its student living group, and we closed a deal near the University of Iowa. While working on that deal, the leaders of CA Ventures took a liking to me and brought me in to work in its newly formed senior living division. I was leading the investments and acquisitions side of the business for them.
At the time I joined we were searching for capital for 14 development projects that were teed up and ready to go. We were looking for a partner to grow with us. We ultimately selected Goldman Sachs because it offered to fund the equity as well as the debt. For a start-up company with a limited balance sheet, it was a really attractive opportunity.
For the next five years at CA Ventures, we were developing about 30 properties and bought 15 or 16 assets in various types of portfolios. My specific roles and responsibilities were handling site selection, underwriting, fundraising, closing and any special investment projects. We invested in a number of ancillary businesses, so structuring those investments was something I worked on.
In 2019, we built our own internal management company. With one of the large acquisitions, we decided to leverage the strengths of the people who came with the acquisition. We combined their regional and corporate folks to create Anthology, which is what CA Ventures uses as its in-house management today. My partner, Ben Burke, and I raised a lot of capital around that venture. To date, I believe CA Ventures has a 50 percent interest in Anthology.
I was approached in mid-2021 with an opportunity to move over to Waterton, which is a prolific fundraiser. The company has been in the multifamily sector since the mid-1990s in the value-add space. In 2015, Waterton made the decision to enter into the senior living space via an investment in Pathway to Living. CA Ventures' hope was Pathway would continue to grow in the private-pay sector. Pathway was focused on affordable housing, but part of CA's thesis was to help move the company more into a private-pay model.
I started in August. The role I was hired for was senior vice president of acquisitions. There were a number of discretionary decisions for retirement on the horizon, and Pathway was looking to find a successor for Jerry. The opportunity to work with Waterton and right-size the Pathway business to bring it to the next level was of interest to me.
Immediately after I started, Maria Oliva, chief operating officer, decided to retire and then, of course, Jerry's retirement was announced. The changes were made in January 2022. We've been hard at work on the Pathway team, getting the right people in the right seats, moving the business unit forward in the most productive manner possible.
SHB: That background has a lot of variety, as far as property type. Has that helped you?
Dickinson: What interests me the most about senior living and other operationally intensive asset classes is that you really get to dive into the details. These asset classes sit at the nexus of a traditional real estate investment and the operating side of the equation. Creating value and using operations to impact real estate has been a focus throughout my career. It's why I'm so passionate about senior living. It helps people and creates margin financially.
SHB: What lessons are you going to take from Jerry in your new position?
Dickinson: Jerry's done a fantastic job of representing the industry. He's been involved since the mid-1990s and is a pioneer of the affordable model, particularly using the Illinois Supportive Living Program along with Low-Income Housing Tax Credit (LIHTC) program. He was able to create a financial structure that allowed for the delivery of senior living to the affordable population. His creative thinking around putting that capital stack together and thinking through regulations is something that I admire and certainly take away.
As it relates to the industry, he's been involved in every board that exists with trade organizations. I hope to continue that public representation of the sector in a really positive light.
Softening headwinds
SHB: At your keynote address at InterFace Seniors Housing West conference in February, you spoke about flattening the corporate structure to improve staff recruiting and retention. How would you rate progress on that front nearly one year into your job?
Dickinson: We have made some significant changes to our corporate work chart to drive responsibility and accountability. Under the regional alignment, each regional employee traditionally reports to his or her respective leaders. That's been changed. Everything is reporting through the operations individual at the corporate level. But we haven't lost the feeling of accountability in the sense we're holding them responsible for their performance.
As it relates to retention and recruitment, that's top of mind for everybody in the organization, regardless of their level. The clarity we've provided has helped people. 
Individuals want to know how to be successful. If they're given a line to follow, they will follow it and be successful. We've done a really good job being clear about our expectations. We are seeing people perform to those expectations, and then you have the additional effect of portfolio performance, which is ultimately our goal.
I can't emphasize enough the good things happening with the team. The excitement internally with our team and partners is palpable. It's all about the people in our industry, and I think we have the best people.
SHB: You also spoke in depth on the topic of data. What are the important data points you're focused on, what are the results, and what's still left to be done?
Dickinson: I'm a numbers guy. You can't expect what you don't inspect. You have to be able to look under the hood at each department, determine KPIs (key performance indicators) and hold staff accountable to them.
In the maintenance department, we're looking at the number of open tickets and the time to complete those tickets. For sales and marketing, it's the leads funnel and cost per move-in.
There's a lot of opportunity for improvement using data on the clinical side. Residents live in our communities because they need care. So, we have a heavy focus on past-due assessments, missed meds, survey results, nurse call response times, falls, fall response times and average care per resident. Those things will tell us where we're going as a department.
For labor, we have a relationship with a third-party recruiting process outsourcing (RPO) group, which has taken the place of our team that focuses on the community level, executive directors and below. They have access to much more information in terms of sources of candidates. Through them we've been able to track a lot of data on recruiting, treating the recruiting process like the sales process. What are your conversion metrics, open slots, and the time it takes to fill them?
The base layer of the pyramid is the departments. As you move up the pyramid, the reports get more consolidated, but more leading. The goal is to create a report for our corporate team that will give us the greatest insight on the future of the company.
We have a third-party intelligence group working with us and our service providers. They're aggregating the data we're outputting. A big initiative of mine is to standardize all our systems so that we're outputting a similar language, so our consultant can digest that information.
We're consolidating our customer relationship management program with our maintenance data and our accounting platform. We're using that to make departmental reports, and we'll have that information up to the peak of the pyramid by the end of October.
Data is hugely important.
How to grow responsibly
SHB: We speak with a lot of owners/investors who talk about their preference for regional, mid-sized operators, which seems to fit Pathway to a tee. How does a company like yours grow and expand without becoming too large or geographically spread out?
Dickinson: The most common approach to solving that problem, which is definitely a concern, is the way you structure your organization. How do you set it up to either expand or contract in a way that keeps the focus locally, while also providing the efficiencies of a larger organization? 
We structured our organization in that manner. We've set up the regions in a reporting structure where we can easily add new regions or partial regions. Ten to 15 communities is ideal for a region, but we can start smaller than that.
By and large, we're focused on growing in the markets that we're in today. 
Growth will occur via acquisitions, co-development and contracts for third-party management.
SHB: You have an aggressive acquisition pipeline: $500 million for seven to 10 deals this year, you said at the InterFace conference, with a focus on turnaround projects. What is your strategy for adding value through these acquisitions?
Dickinson: Our acquisition strategy is threefold:
(1) Is the asset in a market we want to be in? (2) Can we add value through development or capital improvement initiatives? Can we add units via land that is adjacent? Is there an inefficient unit mix today? If someone is selling a hotel project that's all studios, we know that's not going to work, but we can fix that. Our team at Waterton is really good at that. (3) Can we add value through our management company? I feel we are uniquely qualified to add value through the more traditional management level.
That said, we've had to soften our acquisition pipeline since I made that statement in February. The capital markets are super tight right now. The bid-ask spread is very wide right now. Without those challenges, we would've had a lot of opportunities that put us much closer to that $500 million mark. That said, I remain optimistic we can make a number of additional deals before the year is out.
SHB: Keeping rents affordable has always been a focus of Pathway. How do you improve an acquired property, or build a community from the ground up, while still maintaining rates that are attainable by a large swath of seniors?
Dickinson: That's a hard question. If I had the answer, I would be doing it.
Only 50 percent of our portfolio is what I consider to be true affordable product. Starting in 2010, we made a concerted effort to enter the private-pay sector. We're not abandoning those roots by any measure — we're doubling down in some instances.
The affordable product is tricky. It really all starts with your basis in the deal and how you've capitalized it. Jerry is known for his skills in the LIHTC sector, and supportive living gives us access to the Medicaid markets. About half of the few supportive living licenses in Illinois are with Pathway.
On market-rate deals — or quasi-affordable — you drive low rates through reducing expenses. Sixty percent of our expenses are labor. We're on the brink of a recession. Hopefully the silver lining is it reduces the pressure on the labor market. 
We're also thinking about centralizing dining functions, thereby reducing controllable expenses. Universal workers are always a hot topic — how to get caregivers and culinarians to share roles. That universal worker becomes even more paramount in smaller format communities of 40 to 60 units where margin is even more difficult to eke out.
I'm a huge proponent of the LIHTC sector. It's been the most successful product nationally to create affordable housing solutions, senior living or not. The government can monetize private investors, which causes a low enough basis to charge low enough rents. That's how it gets done — through programs like that.
SHB: What's something people in the industry would be surprised to learn about you?
Dickinson: I don't know if people know that I'm an avid sailor. 
I lived on my sailboat for two years while working for CA Ventures. My life goal is to sail around the world.