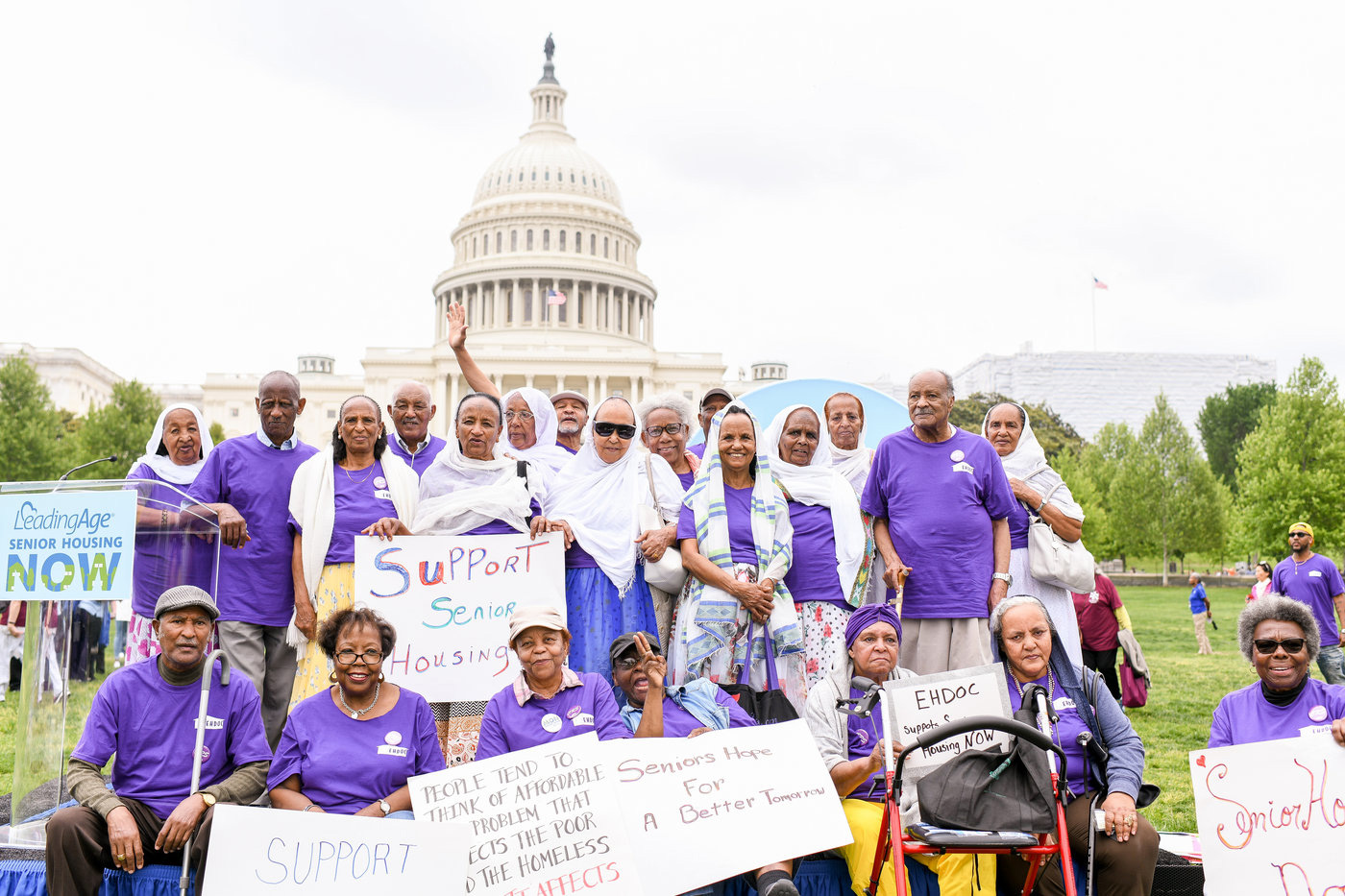 The pandemic and a new White House administration lead to a changed legal and regulatory landscape, and the jury is still out on the near-term and long-term impacts.
By Jeff Shaw
The seniors housing industry has undergone an unprecedented amount of transformation in the last few years, and the government priorities and legal issues surrounding the sector have changed along with it.
On the regulatory side, a change of White House administration in the heart of a deadly pandemic meant the baton had to be smoothly passed on a wide variety of COVID issues, such as distribution of Provider Relief Fund (PRF) dollars. In September, the U.S. Department of Health and Human Services announced $25.5 billion in new funding, Phase 4 of the PRF, "for a broad range of providers who can document revenue loss and expenses associated with the pandemic."
"All the Phase 4 funds were to be dispersed before the end of January. Then it trickled into March, April and May," says Paul Williams, vice president of government relations with Argentum, a national association supporting senior living communities. "You've got a lot of providers right on the edge of financial stability that are counting on these payments. Unfortunately, the windows keep slipping and they become more and more vulnerable."
In the first year of the pandemic, meetings between Argentum, the Centers for Disease Control and Prevention (CDC) and Department of Health and Human Services (HHS) occurred weekly. 
That constant communication has started to slip under the new administration.
"It's been honestly a bit more difficult to break through the silos of the current administration," says Maggie Elehwany, senior vice president of public policy with Argentum. "We no longer have weekly meetings to give feedback to the administration on what's going on on the ground. 
"That doesn't mean they aren't listening. We have a dialogue built with them, but honestly, getting the adequate financial relief to deal with COVID has been a challenge. We really had to start from square one with the new administration."
And of course, though the worst appears to be over, COVID-19 is not gone. Linda Couch, vice president for housing policy for LeadingAge, an association of nonprofit providers of aging services, including affordable housing for low-income older adults, noted that HUD has also fallen behind on its pandemic-relief payments. She expressed concerns at the readiness of the agency to handle another outbreak.
"HUD still has resources for COVID supplemental payments, and providers are still mitigating the effects of COVID," says Couch "If we have a surge that proves even half as harmful to older adults, will HUD be at the ready to partner with the CDC to get the vaccines and the boosters and the therapeutics? If COVID showed us anything, it's how connected housing and health are."
For its part, the American Seniors Housing Association (ASHA) shares its concern that proposed stricter regulations for the skilled nursing sector — such as minimum staffing requirements — could flow into seniors housing.
"Since the private-pay senior living industry is regulated at the state level, we are not included in these proposed stricter requirements, but we must pay special attention in order to be prepared for any unnecessary regulatory creep into senior living," says David Schless, ASHA's president.
Another major focus at the federal level are home and community-based services (HCBS), which were slated for increased funding in both the American Rescue Plan and the Build Back Better proposal. The National Center for Assisted Living (NCAL) notes that these changes could be beneficial for assisted living communities in addition to home healthcare.
"With one in six assisted living residents relying on Medicaid for their daily care, we appreciate federal officials recognizing the importance of expanding access to HCBS for services like assisted living for low-income seniors," says LaShuan Bethea, executive director of NCAL. "Additionally, states and HCBS providers with Medicaid waiver programs must be in compliance with a new federal HCBS regulation by March 2023."
Can the government help with labor?
One of the topics on everyone's mind in seniors housing is the mounting workforce shortage. 
"You look at how rapidly our population is aging, the fastest growing segment of the population are those who are going to need the most care," says Elehwany. "In the next decade, for the first time ever, we'll have more seniors than children. We won't have the caregivers to care for these individuals. When you look at the sheer raw numbers of people who will need aid and the size of the workforce, all the other crises pale in comparison."
Nearly three-fourths of nursing homes and more than half of assisted living communities report that their overall workforce situation has worsened over the past year, according to a June 2021 study by NCAL.
Operators need to have their own hiring and recruitment strategies, but in what ways could government programs assist?
"Our industry is facing a historic workforce crisis that has impacted virtually every aspect of the business in negative ways," says Schless. "Therefore, we actively engage with policymakers in both parties to try and find solutions. We need thousands of additional caregivers and other essential community-level personnel, including med techs, food servers and housekeepers."
Argentum notes that several successful programs already exist — they just need to be expanded.
"You don't need to reinvent the wheel, you just need to focus some programs that the federal government offers now," says Elehwany. "Argentum's goal is to really set forth a platform. The problem is so significant there's no one silver bullet."
Argentum specifically cites the Health Apprenticeship Expansion Program through the Department of Labor, which provides a pathway for long, successful careers. Elehwany says the program is "phenomenally successful — we just need more of it."
Other promising ideas include loan forgiveness for college education in certain career paths that are currently underserved. "We want them to start steering the ship toward geriatric care," says Elehwany.
LeadingAge notes that immigration programs could also bring in more employees from other countries through a special visa program specifically for workers in the aging services space.
"We all know that there are not enough people in this country to meet the needs of today's older adults. We all know that the older adult population is expanding every single day. We know the math doesn't work," says Couch. "Congress has to step up with a solution. The State Department has to be told what to do, and it needs the resources to do it."
Affordability is always a concern
While the seniors housing industry must make sure the U.S. has enough workers to serve the growing senior population, it must also consider where those people will live.
Making sure all seniors can afford to live in seniors housing is an ongoing challenge for the industry. 
"In order to meet the growing needs of the elderly population, we must look for ways to make assisted living a more affordable option for low- to moderate-income older adults who are no longer able to live at home," says Bethea. "We are encouraging state policymakers to expand affordable assisted living through a variety of grants and programs."
As far as true affordable housing, with rent and income restrictions for residents and government incentives providing some of the costs, the common refrain for many years is that there simply isn't enough supply. 
"We are singularly focused on the fact that too many older adults are living in a time of deep scarcity," says Couch. "When inflation is pushing way past their fixed incomes when it comes to rent and life necessities, there are way too few affordable seniors housing units, and way too little government subsidies compared to the need. I don't think we have a full understanding of how that affects older adults and what that means for the country long-term."
One often overlooked area where the government can have a real impact on the lifestyle of low-income seniors is internet availability. Couch notes that without reliable, affordable access to the internet, seniors are left out of important resources such as telehealth solutions and remote social interactions.
"Internet access is something most of us take for granted," says Couch. "Without internet, residents of affordable seniors housing communities are left out of the telehealth revolution. They're falling further behind the general population. Social isolation is always a problem for older adults. Without the internet, it's harder to connect with our loved ones and services."
There are federal programs underway, including in the massive infrastructure bill that passed in November 2021, to get internet access to more of the low-income population. Of the $1 trillion bill, $65 billion was set aside for increasing broadband availability, which will be implemented by a combination of HUD, the Federal Communications Commission and state agencies.
"I'm hopeful by the end of this administration, we will be looking at a different situation in these buildings," adds Couch.
Couch also notes that extra requirements to receive governmental assistance for affordable seniors housing projects, such as buying American-made products and hitting sustainability benchmarks, are well-intentioned but overall harmful. The "buy American" rule is not yet in effect, but appears to be coming soon.
"While the intent is laudable — strengthen the American workforce — we're already seeing increases in lumber and construction prices that are increasing the costs of affordable housing, delaying construction," says Couch. "We wonder if this is the right time to go forward with this rule."
Legal complications of COVID
"The pandemic brought about a barrage of lawsuits [aimed at healthcare providers], often focused on a time during the pandemic when the virus was unknown, CDC guidance was rapidly evolving and at times conflicting with state guidance, and PPE (personal protective equipment) was scarce," notes Bethea. "This has resulted in rising liability costs. These legal challenges take away precious resources that could be used to invest in better care for our residents, better pay for staff, stronger infection control methods and other additional improvements."
While the national emergency order released at the start of the pandemic protected healthcare providers from litigation, that protection could end at any time and open the door for frivolous lawsuits, notes Argentum's Elehwany. As a result, Argentum is hard at work securing protections for seniors housing operators at the state level.
"We got together with all our organizations and, either through statute or executive orders, were able to provide some degree of protection for those employees and employers for COVID," says Williams. "They had a hard enough job without getting sued for providing the care that was needed. It's not like COVID care was around. It was brand new. It was developing."
For law firms that specialize in seniors housing, there are a host of legal considerations that operators should keep an eye on.
Paul Gordon, a partner at Hanson Bridgett, echoed Argentum's litigation concerns. The solution, he says, is to make sure that courts and regulatory agencies continue to recognize that standards of care were not well defined, and often confusing or outright contradictory.
"According to the U.S. Government Accountability Office, 99.5 percent of nursing facilities in the country had COVID in their buildings, despite heroic efforts to keep it out," says Gordon. "Senior living and long-term care operators should not be found liable for alleged failures to keep COVID out of their buildings."
Michael Okaty, a partner with Foley & Lardner, urges state leaders to adopt a set of uniform, standardized licensing requirements that apply across the nation rather than each state having its own rules.
"I believe a uniform licensure — or at least CHOW (change-of-ownership rules) — would ease some burdens on owner-operators," says Okaty.
Bobby Guy, a healthcare M&A lawyer at Polsinelli, suggests that the biggest complications are yet to come, as technology changes the way healthcare is delivered.
"Innovation is always a top legal issue because healthcare laws are built to deal with our current state of technology, not innovation, which is very difficult to anticipate and predict," says Guy. "Major business changes in healthcare also present major legal challenges, and the law has to evolve to keep up with the changes in how we deliver care to our seniors."
However, Guy also says innovation is a huge opportunity for the seniors housing industry to change for the better in the long term.
"Seniors housing providers should look to the broader healthcare trends in order to find success: the consumer revolution, digital healthcare transformation, the shift to wellness, the demand for quality and the need for network partners. This is how senior living providers will survive and thrive in a rapidly changing healthcare environment."