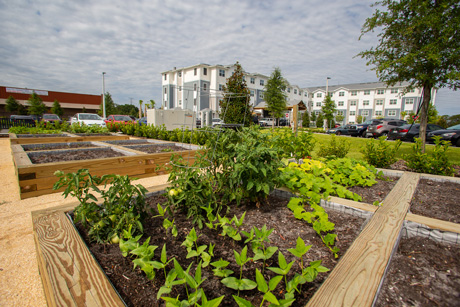 ORLANDO, Fla. — Wendover Housing Partners and the government of Orange County, Florida, have opened Hawthorne Park, an affordable seniors housing community in the Pine Hills neighborhood of Orlando.
Hawthorne Park replaces a portion of an underutilized shopping center. The 120-unit community is designed for residents 55 and older meeting income requirements.
According to the National Low Income Housing Coalition (NLIHC) 2022 GAP report, the Orlando metro area only has 18 affordable and available homes per 100 extremely low-income renters. A recent study conducted at the request of the Orange County Board of County Commissioners found that rents across Orange County rose roughly 25 percent last year due to years of inadequate housing production.
"The need for affordable housing across Central Florida is becoming greater, especially now that rents in Orange County are just short of what could be considered a housing emergency," says Jonathan Wolf, founder and CEO of Wendover Housing Partners.
Hawthorne Park offers both one-bedroom, one-bath and two-bedroom, two-bath units, with rents starting at approximately $876 per month for one-bedroom units and $1045 per month for two-bedroom units.
The community cost $27.6 million to develop. Financing included a $250,000 grant from Orange County, a $317,500 loan from Orange County and $2.3 million in low-income housing tax credits (LIHTC) from Florida Housing Finance Corp.
Slocum Platts Architects designed the complex and Roger B. Kennedy Construction was the general contractor.